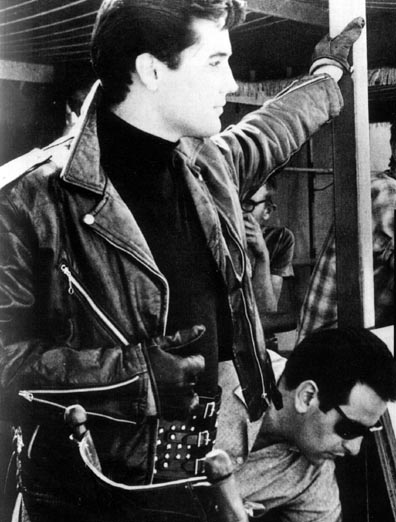 Taken on:

1964

Source:

The Elvis Encyclopedia by David E. Stanley and Frank Coffey

Photo:

The Elvis Encyclopedia, Elvis Day By Day

Info:

A pensive look on his face, Elvis, dressed in full leathers for his role in 1964's Roustabout, waits between takes for his next shot. Although he publicly denied it, Elvis was becoming concerned about his career and the impact of the Beatles on American Rock & Roll. His connection to the audience and his love of performing were strong elements in his life and he was beginning to miss the concert tours.

Elvis really wanted to become a good actor. During Roustabout Elvis begs his director John Rich to let him do his own fight scene, promising to take full responsibility if there's an accident. Elvis can do his own fight scene, which meant a few stitches above the star's eye. John Rich came up with an ingenious solution to explain the stitches: it is the result of his motorcycle being run off the road (already a story point), and Elvis will simply wear a Band-Aid from the next scene on. No shooting days are lost.
Login to give your opinion