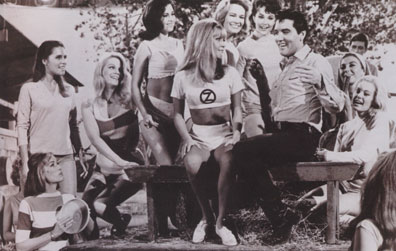 Taken on:

1965

Source:

Elvis Day By Day

Photo:

Unseen Archives

Info:

Tickle Me, another dull movie, worth viewing because of the "original" soundtrack and... Jocelyn Lane.

A singing rodeo-rider (Lonnie Beale by Elvis), a young owner of a beautyfarm (Vera Radford by Julie Adams), a more than beautiful fitness teacher (Jocelyn Lane), a treasure in a ghosttown, a corrupt sheriff and his gang. Lonnie finds the treasure and marries the fitness teacher.


Login to give your opinion
Crap in, crap out. Can't be;ieve he lowered himself to play in these hollywood fiascos.