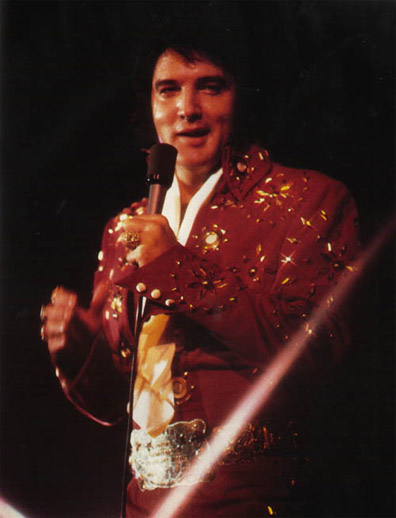 Taken on:

1972/04/10

Source:

Elvis The Concert Years (Stein Erik Skar)

Photo:

Elvis Standing Room Only. 1970 - 1975 (JAT Productons)

Location:

Richmond Coliseum, Richmond, Virginia

Attendance

11.500

Suit

Burning Love Suit

Info:

Elvis' fourth tour started on April 5, in Buffalo, New York. A short time before this tour Elvis started a tough diet to get rid of as much extra weight as possible. MGM was going to film parts of this tour, so Elvis wanted to look as good as possible. The extreme hunger diet did result in Elvis losing a few kilos, but he didn't look well during this tour. His face was bloated, he looked tired - and the split with Priscilla was such a hard blow for Elvis that he didn't manage to put his whole soul into the performance. Despite this, the concerts were of a very high quality; the orchestra now functioned better than ever on tour, and the repertoire consisted of musical pearls like "How Great Thou Art", "Bridge Over Troubled Water", "You've Lost That Lovin' Feeling", "You Gave Me A Mountain" - and not the least "An American Trilogy", which was included for the first time on tour. MGM filmed the evening concert in Richmond, and later in Charlotte, Greensboro and San Antonio. The sites for recording were not chosen arbritrarily: a couple of weeks earlier Pierre Adidge (documentary film maker) had gone with Parker on a tour of all the concert halls to choose the sights most suitable for film recordings. All in all about 50 hours were recorded from Elvis' concerts, from the record studio, and from the activity surrounding the concerts from, for example, Little Rock, Roanoke, Jacksonville and Albuquerque. The finished film got the name "On Tour". It cost $600.000 to make not including Elvis' fee. "On Tour" won the coveted "Golden Globe" as best documentary in the USA in 1972. Now, 31 years after this tour, it is time for a remake. With 50 hours of footage it cannot be difficult to make a totally 'new' On Tour, Second Edition. So, MGM.... Reader's input: When I looked through the "pictures" section I stumbled on a 1972 picture of Elvis dressed in the "Red Matador" aka the "Burning Love Suit". The picture was claimed to be taken during the April-tour but this is not correct. In fact the picture is taken at El Paso during the November-tour. You can verify this by taking a look at the microphone Elvis is using. This one was used during the second half of the June-tour and the November-tour. Elvis also looked heavier here than in April.
Login to give your opinion