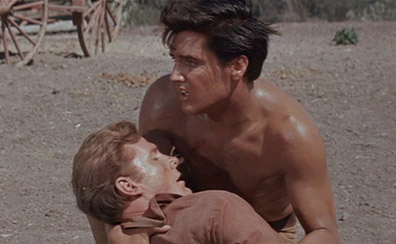 Taken on:

1960

Source:

Elvis Day By Day (Ernst Jorgensen and Peter Guralnick)

Photo:

DVD

Location:

Studios of 20th Century

Info:

August 01, 1960 - Elvis reports to 20th Century Fox at 9:00 a.m. for preproduction work on Flaming Lance, the working title for a film that will soon evolve into Black Star and eventually be released as Flaming Star. Produced by David Weisbart (Love Me Tender) and directed by Don Siegel, this otherwise conventional western is intended as a serious look at the life of a young man caught between the worlds of his Indian mother and his white father.
Elvis begins horseback-riding lessons each afternoon for the next two weeks in preparation for the role.

Flaming Star, A Cane and a High Starched Collar are the songs of the movie which were accompanied by The Jordannaires.
Login to give your opinion