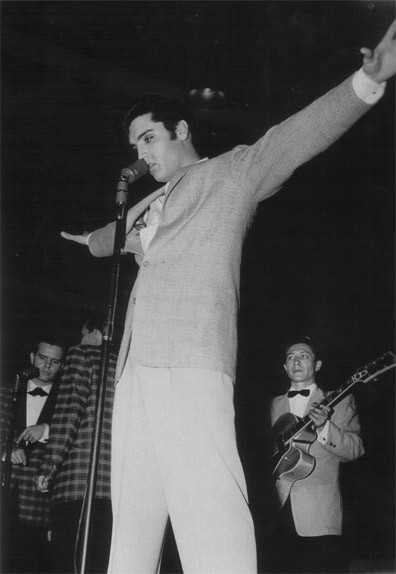 Taken on:

1957/10

Source:

Elvis Day By day (Peter Guralnick and Ernst Jorgensen)

Photo:

Elvis A Celebration (Mike Evans)

Location:

Pan Pacific Auditorium, Los Angeles, California

Info:

In his first show in his new adoptive hometown, Elvis outrages not only the local and national press but an audience filled with Hollywood celebrities and their children. During the fifty-minute, eighteen-number show he "wiggled, bumped, twisted," and prompted headlines the next day that declared: "Elvis Presley Will Have to Clean Up His Show - Or Go to Jail." The Los Angeles Vice Squad warns Colonel Parker of that same potential consequence, but according to the Colonel, Elvis remains unfazed. "He just said, 'Well, if I don't dance tonight, maybe I don't have to take a shower tonight."
The second night a far less flamboyant performance passes the scrutiny of the police, who film it just to make sure.
Login to give your opinion