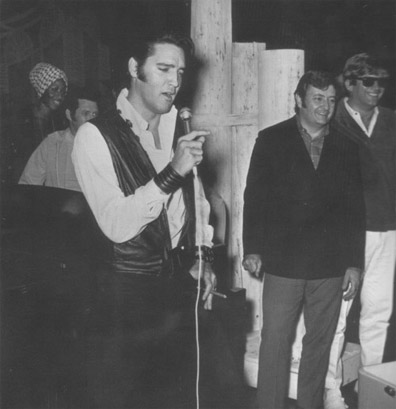 Taken on:

1968/06/26

Source:

Tiger Man - Elvis '68 (Joseph A. Tunzi)

Photo:

Joseph A. Tunzi

Location:

Burbank, Hollywood

Info:

At the party of Colonel Parker's birthday, one day prior to the first Sit-Down Show, Elvis took the opportunity to sing his parody of 'It Hurts Me'. The lyrics written by Chris Beard and Allan Blye seemed to indicate in jest some of the problems that occurred during the Special.

(Parody - "It Hurts Me")

It hurts me
to see the budget climb up to the sky
it hurts me
when finkel gives me trouble
when I see all my money go
just for one god-damned ol' tv show
it hurts me
the way that finkel spends my dough

the whole town is talkin'
they're callin' me a fool
for listenin' to binder's same old lies
finkel calls me, says I've got no choice
then hangs up the phone in that damned rolls royce
it hurts me
when my tears start to flow

they promised me sure
if I would give in
that I would - that I would
never go wrong but tell me the truth
is it too much to ask
for one lousy, tired ol'
christmas song...?

Login to give your opinion