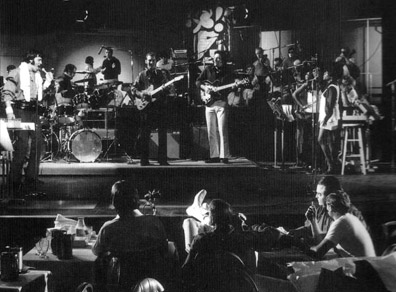 Taken on:

1970/08/07

Source:

The Way It Was (by Sherif Hanna and Ernst Mikael Jorgensen)

Photo:

Elvis rehearsing for his summer festival 1970. (The Way It Was)

Location:

Las Vegas International Hotel

Attendance

a film crew and some others

Info:

On August 7, 1970, Elvis had a stage rehearsal at the International Hotel, three days prior to his opening night. This summer festival would be filmed for the documentary "That's The Way It Is". During this stage rehearsal Elvis rehearsed the following songs:
-You've Lost That Lovin' Feelin'
-You Don't Have To Say You Love Me
-The Next Step Is Love
-Twenty Days And Twenty Nights
-Polk Salad Annie
-Oh Happy Day
-I've Lost You
-Mary In The Morning
-Sweet Caroline
-Words
-Patch It Up

Some of these rehearsals were shown in the "That's The Way It Is"-documentary and some of these rehearsals should have been shown in the documentary. Elvis gave a wonderful and exciting version of 'Oh Happy Day'.
Login to give your opinion