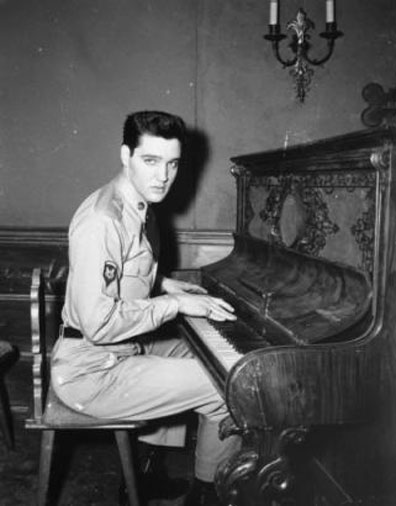 Taken on:

1960

Source:

Yahoo News

Photo:

Associated Press

Location:

Friedberg, (former West) Germany

Suit

Army

Info:

A young Private Elvis Presley is shown at an upright piano in the recreation hall, Headquarters Company, Third Armored Division, in Friedberg, West Germany in the Spring of 1959.

(At least, this is what Yahoo 'told us', according to Geert Hof (Solid Gold Elvis) it must be during the filming of G.I. Blues, based upon the silver line on top of the sign on Elvis' sleeve, thanks Geert!)


A white Knabe grand piano once owned by Presley sold at an auction in Memphis this week. The piano, given by his wife, Priscilla Presley to Elvis, went for $685,000 to Michael Muzio, chairman of Blue Moon group.
Login to give your opinion
GI Blues...He is a SP5 (E-5) which is a Specialist 5 the Part played by Tulsa in the Movie.