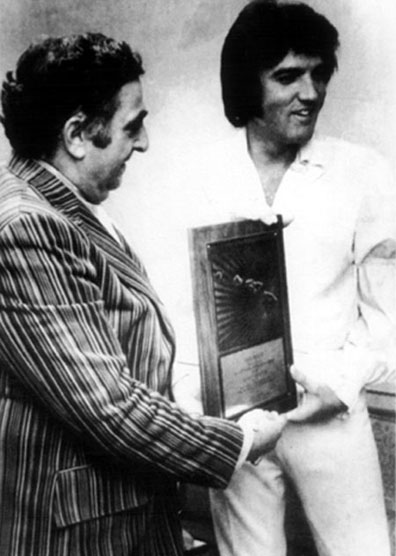 Taken on:

1973/01/13

Source:

The Sundat Advertiser (taken from Jerry Hopkins' "Elvis in Hawaii.")

Photo:

Matt Esposito, manager of the Honolulu International Center, thanks Elvis. (Elvis in Hawaii by Jerry Hopkins)

Location:

Hawaii

Info:

The two shows in Hawaii on January 12 and January 14, 1973 raised $75.000 for the Kui Lee Cancer Fund, $50.000 more than the goal set in November. In part, this was because the Colonel pressured prominent local personalities to contribute $1.000 apiece to watch the show - while many children got in for a penny.

The Sunday Advertiser, active in promoting the show, ran a lead editorial on January 14, 1973, saying, "Elvis Presley continues to be a great, good friend of Hawaii." The newspaper reminded the readers that this was the second time that Elvis had "delivered for Hawaii in a big way", going on to recall the benefit for the Arizona Memorial a dozen years earlier.
Login to give your opinion