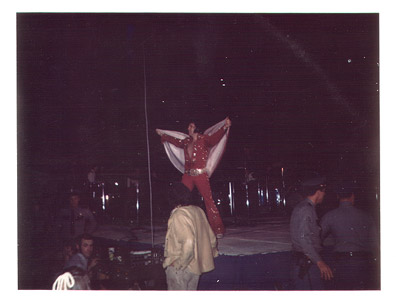 Taken on:

1972/04/17

Source:

Frankie Rider II, Locust Grove, Arkansas

Photo:

Frankie Rider II, Locust Grove, Arkansas

Location:

Little Rock, Arkansas

Attendance

10,000

Suit

Burning Love Suit

Info:

My mother about fainted when she looked at the tickets and discovered that they all were on ROW 3 to stage left. We had seen Elvis before in concert, but not that close! Our seats at the Alabama show the previous November were terrible…. on the risers to the left almost behind the stage. The seating location coupled with Elvis' Black Matador jumpsuit ensured that we saw basically nothing at all. So we were definitely thrilled with the close seats at this second concert…. Even if Elvis wore black again, at least we would be able to see him this time!

The night of the concert we arrived early to find that the MGM film crews were on hand to film location work on the movie they were making of the April tour…. later to be called Elvis On Tour. In the finished film, the coliseum sign and the crowded parking lots you see before Jackie Kahane does his routine is footage from Little Rock; also from Little Rock are the backstage scenes with Elvis in the red "Burning Love" jumpsuit filmed before he goes onstage.

I've attached some photos taken at the Little Rock concert for you. I apologize for their quality; my Dad shot them with an old Polaroid land camera…. not exactly the finest quality photographic equipment of the times. But they do document the performance, nonetheless.

Login to give your opinion