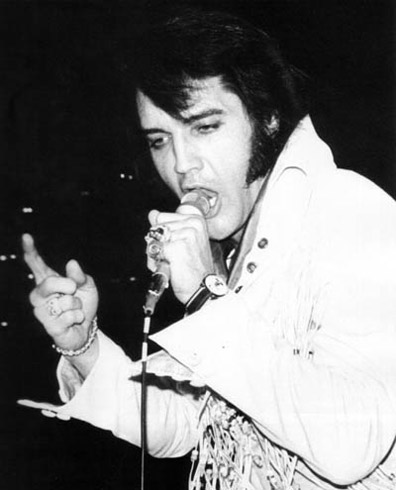 Taken on:

1970/11/12

Source:

Seattle Daily News

Photo:

Elvis Thank You Very Much (Paul Lichter)

Location:

Coliseum, Seattle, Washington

Attendance

15,000

Suit

Fringe Suit (short)

Info:

Presley's Show No Blockbuster.

All of the conditions were right for Elvis Presley's concert at The Coliseum last night to have been a smash hit. The concert was sold out and the audience was "up" for it to the point of frenzy.

But despite Elvis' personal magnetism and incredible popularity, the show was disappointing. His performance was short - perhaps 40 minutes, but it seemed much less. He sang only 14 songs and of those, only six were original Elvis hits.

Much of the time was spent with the star horsing around on stage - jokingly putting down Tom Jones, Engelbert Humperdink and Glen Campbell (for no apparent reason) continually striking ridicuosly "dramatic" poses (which elicited wild screams from the mesmerized fans), plucking the hat from a policeman standing by the stage and strutting back and forth with the hat on his head.

These actions were mildly amusing, but definetly not worth the price of a ticket.

THE TONE OF the concert was strange, as Elvis clearly had the talent and ability to have been putting on a top-notch show. But instead of satisfying the audience with his music, he relied on blatant gimmickry to garner applause.

His repertoire of original hits was pitifully small considering the number of successes he has had over the past 15 years. He sang "Love Me Tender" much better than when he first recorded it "How Great Thou Art," "Heartbreak Hotel," "Blue Suede Shoes, "Hound Dog" and "Can't Help Falling In Love With You".

Two others, "You Don't Have To Say You Love Me" and "The Wonder Of You" were recent Elvis hits, but were originally made popular by other singers - Cher Bono and Ray Peterson, respectively.

The others, such as "Sweet Caroline," "Polk Salad Annie" and "Johnny B. Goode" all were made famous by other performers and are not charts hits for Elvis. There is of course nothing wrong with doing other artists' material - and Elvis did well on his arrangements, but for a performer with such an enormous list of credits to his own name to offer so few of them to his audience is, in a sense, cheating. His fans undoubtedly came to hear Elvis sing Elvis songs. In that respect they were shortchanged.

THE AUDIENCE was in such an emotional state from the time Elvis took the stage that all he had to do was look at a section of the crowd and the fans seated there went wild. Despite the shortcomings of the concert, he undoubtedly would have received a standing ovation - just because he was there. but the audience was cheated of that gesture, too. At the close of "Can't Help Falling In Love With You" without warning, Elvis suddenly bolted from the stage. The house lights went on and anonymous voice announced "Elvis has left the building."

As if a state of shock, the crowd was silent. Everone looked around as if to say, "Where did he go?" With a mass shrug of the shoulders, the audience quietly filed from the hall. What we had seen of Elvis Presley was pretty good, but it was far from satisfying.

Login to give your opinion