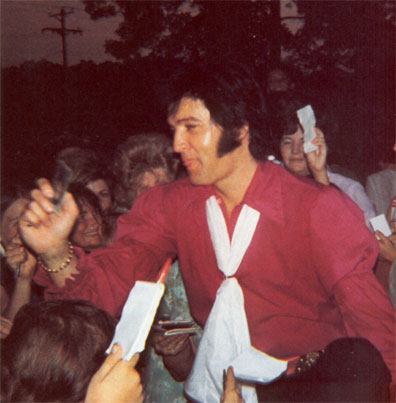 Taken on:

1970/07

Source:

Unseen Elvis by Jim Curtin/ Day By Day by Guralnick/ Jorgensen

Photo:

Elvis enjoying close contact with his fans.

Location:

Memphis, Tennessee (?)

Info:

The latest Follow That Dream release, Nashville Marathon, has 4 candid shots inside, and this is one of them.

After the marathon session, 35 masters in 5 days, in Nashville, Elvis enjoyed himself until he had to go west for the upcoming Las Vegas engagement. On June 22 he bought three snow mobiles, which were able to drive the Graceland grass. He went to Nashville, maybe to review and repair some recordings, he stayed in Dallas for a couple of days and flew back to Memphis as "John Carpenter", together with Richard Davis and Charlie Hodge. Until he went to California he saw screenings in the Memphian every night.
Login to give your opinion