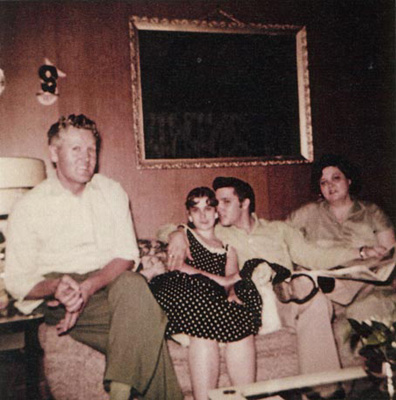 Taken on:

1956/06

Source:

Day By Day

Photo:

Elvis at home with June Juanico

Location:

Audubon Drive, summer 1956

Info:

On June 11, 1956, Elvis flies home to Memphis for the funeral of his cousin Lee Edward Smith, Gene and Junior's brother, who has drowned. Among the crowd of fans outside his Audubon Drive house, Elvis finds June Juanico, the girl he met just one year ago in Biloxi, Mississippi. He will spend much of the week showing her around Memphis.

Meanwhile, in Hollywood the negative publicity over the Milton Berle Show appearance causes Hal Wallis to express some concern to his partner, Joe Hazen. But, he concludes, he would still sign Presley, even if he were unknown, because of the fine quality of his screen test.

On June 12, Elvis flies to Houston with June Juanico, whose ticket is issued in the name of Miss June Prichard in order to protect her from the security of the press. (Prichard may have been chosen because Elvis has tried to call her on October 26, 1955, from Prichard, Alabama, soon after they first met.) They are traveling to pick up the new convertible that he has ordered, a 1956 ivory-colored Cadillac Eldorado Biaritzz. Harry Kalcheim reports to the Colonel that there is a great deal of British interest in Elvis playing the Palladium in London.
Login to give your opinion