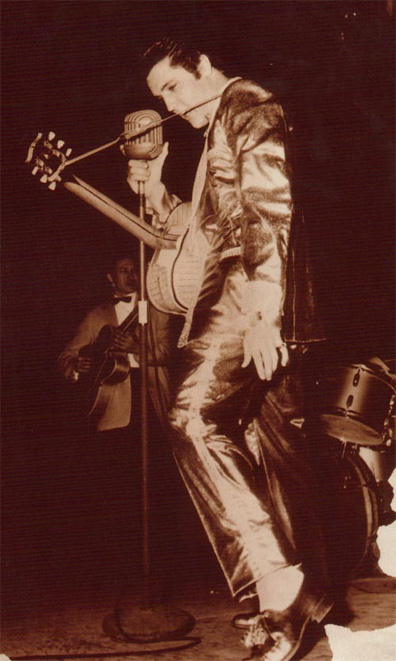 Taken on:

1957

Source:

Day By Day By Ernst Jorgensen

Photo:

Joe Tunzi

Suit

Gold Leaf

Info:

March is a busy month for Elvis. He finishes the movie 'Loving You'. He decides to buy Graceland after seeing it once. Elvis telegrams June Juanico to meet his train during a brief layover in New Orleans, and it is there that she informs him that she is engaged to be married.

In an incident in downtown Memphis, across from the hotel Chisca, Elvis is accused of pulling a gun on Private Hershel Nixon, a nineteen year-old Marine, who claims that Elvis insulted his wife. Elvis sends a rambling six-page telegram of explanation and apology to Private Nixon.

On Thursday March 28, Elvis performs for 12.000 people in the International Amphitheater in Chicago. Elvis wears a $2.500 gold-leaf suit that the Colonel has had made up by Nudie Cohen. On Friday March 29, this time at the Kiel Auditorium in St. Louis, Elvis once again wears the gold suit, but after tonight will seldom wear the trousers again. He is embarrassed by what he considers the clownishness, not the coolness of the look, and the Colonel has asked him not to drop to his knees anymore, because the gold is flaking off and gold is expensive.
Login to give your opinion