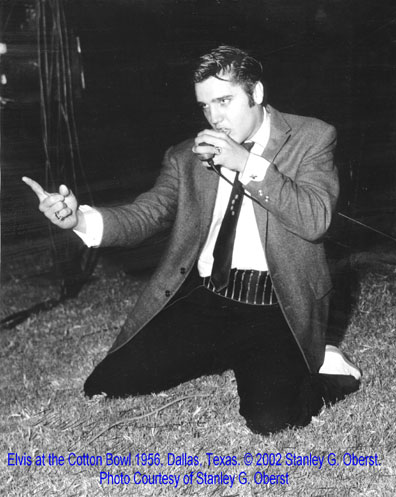 Taken on:

1956/10/11

Source:

Day By Day (Peter Guralnick and Ernst Jorgensen) and All Shook Up (Lee Cotten)

Photo:

Courtesy Stanley Oberst

Location:

Cotton Bowl, Dallas, Texas

Info:

Elvis, Nick Adams, and Gene Smith arrive in Dallas, Texas, by train, to begin a brief, four-day tour promoted by "Bam" Bamford. This show was held in the 75.504-seat Cotton Bowl Stadium. Over 26.500 fans attended the 8:00 p.m. show. Tickets were $1,25 in advance and $1,75 at the door. Along with Elvis was Sherry Davis of the "Big D Jamboree."

Elvis enters in an open convertible, which takes him to a stage set up at the fifty-yard line before the crowd. D.J. Fontana later says of the thousand flashbulbs going off: "It looked like war out there." Elvis sings 'Heartbreak Hotel', 'Long Tall Sally', 'I Was The One', 'Blue Suede Shoes', 'I Got A Woman', 'Love Me', 'Don't Be Cruel' and 'Hound Dog'.
Login to give your opinion