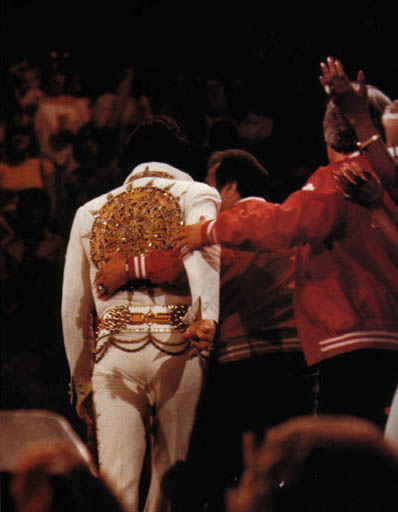 Taken on:

1977/06/26

Source:

Elvis Day By Day (by Ernst Jorgensen and Peter Guralnick)

Photo:

16.500

Location:

Market Square Arena, Indianapolis

Attendance

16.500

Suit

Mexican Sundial Suit

Info:

...."If you want us back, we will come back....wise men say, only fools rush in, but I....Can't help....falling in love with you...." The whole stage crew joins in the last line of "Can't Help Falling In Love" : "Take my hand, take my whole life too, for I can't help falling in love with you, for I can't help falling in love....with....you...." Larry Londin opens the closing vamp, Joe Guercio's orchestra follows up. Elvis puts the microphone on the floor, walks around waving to the audience, shakes people's hands, gives away the white scarf he's got around his neck and starts towards the stairs that led down from the stage. Joe Esposito and Ed Parker come around Elvis' site. Elvis quickly walks down the stairs and is met by Dick Grob - and together they run to the waiting limousine.

"Ladies and Gentlemen, Elvis has left the building...."

Elvis Presley held 1128 concerts from the time he did his comeback on 31st July 1969 at International Hotel in Las Vegas until he held his last concert in Indianapolis eight years later.
Login to give your opinion
i wonder if he knew that was his last concert