Early Recordings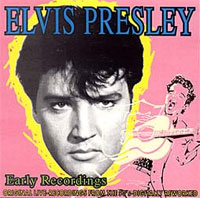 Label:
PR-Records Imm 40.90219
Content
That's When Your Heartache Begins
Shake, Rattle And Roll
The Fool
Tweedle Dee
Maybellene
I'm Left, You're Right, She's Gone (My Baby's Gone)
Blue Moon
I Got A Woman
That's All Right
Blue Moon Of Kentucky
Good Rockin' Tonight
I Want You, I Need You, I Love You
Walk A Mile In My Shoes
Polk Salad Annie
Reviews
This CD with a beautiful artwork features a very strange compilation of overdubbed 50's songs and two songs from the 70's, and some people will not like this CD, and other will love it. It's done in a kind of Felton Jarvis latest project "Guitarman" that was released in the early 80's. I think some of the songs were done pretty nice like "My baby's gone, and Blue moon, but that's a matter of taste isn't ;-).