The Eagle Has Landed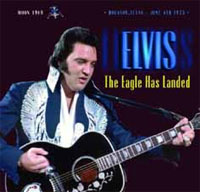 Label:
Moon TEHL P7362512433
Content
2001 Theme
See See Rider
I Got A Woman/ Amen
Love Me
If You Love Me (Let Me Know)
Love Me Tender
All Shook Up
Teddy Bear/ Don't Be Cruel
Hound Dog
The Eyes Of Texas [two lines]
The Wonder Of You
Burning Love
Group Introductions
Guitar solo (Johnny B. Goode)
Drum solo
Bass solo
Piano solo
More Group Introductions
Orchestra solo (School Day)
T-R-O-U-B-L-E [incomplete]
Why Me Lord?
How Great Thou Art (with reprise)
Let Me Be There
American Trilogy
Funny How Time Slips Away (with reprise)
Little Darlin'
Mystery Train/ Tiger Man
Can't Help Falling In Love
Closing Vamp
Reviews
Out now is a new soundboard from the June 4th 1975 Houston, TX. performance. The sound is excellent and as always during that June 1975 tour, Elvis is in very good spirit. Like all the shows from that tour it isn't complete and the May 6th 1975 performance in Murfreesboro, TN. opens the CD and the Houston performance starts at 3:05 (very early in "Amen") and then goes right to the end. The transition between the Murfreesboro show and Houston is very smooth, almost unnoticeable.
The highlights would be a short two lines of "The Eyes Of Texas" and introduced by Elvis as a new song he just recorded and then goes into "The Wonder Of You", which is excellent by the way. The version of "Burning Love" is really really good and it rocks as it should be. Elvis is somewhat irritated by his sound engineers during the show and had "harsh" words directed to them in a few occasions, especially what we could hear almost off mike right after "If You Love Me Let Me Know". "Why Me Lord?" is certainly very entertaining as well because Elvis made J.D. Sumner laugh so hard that the Sweet Inspirations are taking over since he couldn't sing anymore. These moments were usually funnier while you attended the actual show but here you can feel all the fun they had on stage. I always enjoyed Elvis' version of "Let Me Be There" and here we have a very solid version of this song.
Of course there isn't much surprise on that show but it remains a CD I'll play from time to time because Elvis sings pretty well, have fun and most likely entertained the Houston crowd. That night you didn't hear "Houston we have a problem"....No.... the Eagle has just landed.