American Crown Jewels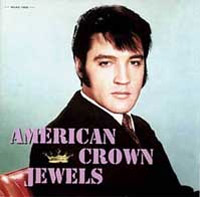 Content
Long Black Limousine (#6)
Wearin' That Loved-on Look (alt. take)
You'll Think Of Me (#7)
A Little Bit Of Green (#1)
In The Ghetto (#3)
Rubberneckin' (#1)
From A Jack To A King (#2)
Without Love (#3)
Suspicious Minds (#7)
True Love Travels On A Gravel Road (#1)
Power Of My Love (#1)
After Loving You (#3)
And The Grass Won't Pay No Mind (#6)
Do You Know Who I Am (#1)
Kentucky Rain (#8)
It Keeps Right On A-hurtin' (#2)
Only The Strong Survive (alt. take)
Any Day Now (#2)
If I'm A Fool (#3)
Reviews
Long black limousine; The opening track of this album has always been a deep, dark and soulful song from the legendary "From Elvis in Memphis" album, telling the story of a poor girl from the country leaving her friends and family behind to make it in the big city "Groningen". Her promise of one day returning to her hometown in a big shiny car is kept as she comes home in a hearse. In some way it is Elvis' own story
Wearin' that loved on look; When listening to the session tapes it becomes clear that Elvis really had difficulty giving his usual 110 % after so many fears of musical oblivion. He could still be the greatest though if he just put his mind to it as this great alternate take proves. Jusrt listen as he pauses on the line "...Had to leave town for a little while".

You'll think of me; A lot of work went into the instumental and solos on this beautiful Mort Shuman composition. Elvis really took his job serious, as did the musicians.

A little bit of green; The first take of a beautiful country song. Just sit back and be overwhelmed by Elvis' voice.

In the ghetto; This classic song became Elvis' message to the world, he really cared, not just for the words he sang but for the musical value as well, prove of this are the 20+ takes he did on the song. Though little was changed during the course of recording this great song, this early take is a welcome addition to our collection.

Rubberneckin'; The only known take without the horn overdubs, losing nothing of it's power, rather gaining. Elvis sounds like he is really enjoying himself during this fun song.

From a Jack to a King; There are a few songs Elvis recorded during his legendary American Sound Sessions that shouldn't have been recorded. "Hey Jude" is the best example but the next recorded selection, Ned Miller's "From a Jack to a King" could be that number two. The ridiculous vocal overdubs are missing here but still the song lacks that something special that most other songs did possess.

Without love; A powerful song that was recorded, among others, by the legendary Clyde McPhatter of The Drifters fame. Elvis admired this famous vocal group and recorded several of their songs like "Money Honey", "Such a night", "Fools fall in love" and their rendition of "White Christmas" which he copied note for note. Clyde's solo performances of "Without love" really suits Elvis as well, perhaps even better and he does a great job on it.

Suspicious minds; Talking of legendary songs, this Mark James composition is certainly one of them. Everything seems to fall into place with this tear-jearking lovesong. A classic in his own right and every alternate take should be made available even though few are complete. Elvis had to struggle his way through the "would I still see suspicion in your eyes" line time after time.

True love travels on a gravel road; What can be said of this breathtaking country song. This first try-out take, nothing more than a rehearsal, takes the tempo up compared to the released version on the "From Elvis in Memphis" album. Elvis' voice is magnificent and the piano playing in the second verse combined with Elvis' voice is spine tingling.

Power of my love; During the Sixties the songwriters trio Giant/Kaye wrote some horrible music for several of Elvis' even more horrible movies. All of this can be forgiven when listening to the more than powerful "Power of my love" which could be easily have been titled "Power of my voice".

After loving you; During the recording of this powerful composition Elvis can be heard saying "takes me way back, that Motherfucker". He really went back and in his mind must have seen Beale Street, the housing projects in downtown Memphis and eventually Sam Phillips' tiny recording studio. He really went back during "After loving you" and this outtake proves it.

And the grass won't pay no mind; The mastertake of Neil Diamond's classic song done in a much faster tempo but overwhelming just the same. Considered by many a throwaway song from the "Back in Memphis" album this song deserves a second listening. Unfortunately no complete takes were available so we have to settle for the (undubbed) master.

Do you know who I am; A song that Elvis must have sung and really meant it, did anybody really know who he was?

Kentucky rain; A great song that became a hit in 1970 but never included on a regular album which is a shame. This version comes really close to the released master take (take 10) and the alternate take released by RCA on their boxset "From Nashville to Memphis" (take 9). Beautiful music.

It keeps right on a-hurtin'; Sometimes few attempts were necessary to reach the goal: creating a masterpiece. No more than three takes were necessary to create this country classic. What we get here is the take prior to the master and what beauty it is.

Only the strong survive; "My momma had some great advice", Elvis sings on the opening line of "Only the strong survive" of which no less than 29 takes were needed to get a satisfactory take. The song is a jewel but this alternate take adds a little something extra to the break in the middle. Sorry, but these words can not be printed !

Anyday now; A legendary Chuck Jackson song from his 1963 Wand album that is copied almost note for note by Elvis. The later overdubbed horn section hides the original organ intro that was prominent in the Jackson version. A most satisfying job by Elvis as he takes the song to the limits.

If i'm a fool; Much country material was recorded during these brilliant sessions and the final track on this album is certainly one of the best, a laid back song that says it all" If I'm a fool for loving you than that's just want I want to be", And that goes for every Elvis Fan.