Rebooked At The International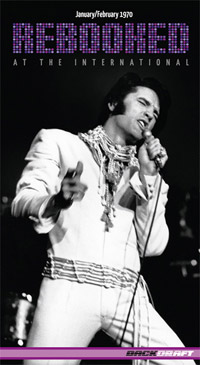 Content
CD 1 Opening Show - January 26, 1970 - International Hotel - Las Vegas, Nevada

Sammy Shore (Comedy Act)* Unreleased
Opening Vamp
All Shook Up
That´s All Right
Elvis talks
Proud Mary
Don´t Cry Daddy
Teddy Bear/Don´t Be Cruel
Long Tall Sally
Let It Be Me
I Can´t Stop Loving You
Walk A Mile In My Shoes/In The Ghetto
True Love Travels On A Gravel Road
Sweet Caroline
Polk Salad Annie
Introductions
Kentucky Rain
Suspicious Minds
Can´t Help Falling In Love

CD 2 (Unreleased in its original form) On Stage - The Felton Jarvis Rough Mix

See See Rider (Feb. 18; DS)
Elvis talks (Feb. 18; MS)
Release Me (Feb. 18; MS)
Sweet Caroline (Feb. 16; DS)
Elvis talks (Feb. 18; DS)
The Wonder Of You (Feb. 18; DS)
Polk Salad Annie (Feb. 18; MS)
Elvis talks (Feb. 16; DS)
Proud Mary (Feb. 16; DS)
Walk A Mile In My Shoes (Feb. 19; MS)
Let It Be Me (Feb. 17; MS)
I Can´t Stop Loving You (Feb. 19; MS)

CD 3 (* Denotes as unreleased)

February 18, 1970 - Dinner Show
Long Tall Sally* (incl. false start)
Elvis talks*
Don´t Cry Daddy
The Wonder Of You
Walk A Mile In My Shoes*
Release Me*
Polk Salad Annie*

February 19, 1970 - Dinner Show
Elvis talks
Proud Mary (incl. false start)
Elvis talks
Don´t Cry Daddy*
Elvis talks*
Kentucky Rain*
Let It Be Me*
I Can´t Stop Loving You*
Walk A Mile In My Shoes*
Elvis talks (0:43)
Release Me
See See Rider

Bonus Tracks
Hound Dog (Feb. 15, MS)
Love Me Tender (Feb. 15, MS)
Walk A Mile In My Shoes/In The Ghetto (Feb. 15, MS)
Kentucky Rain (Feb. 16, DS)
The Wonder Of You (Feb. 18, Rehearsal, Version 1)
The Wonder Of You (Feb. 18, Rehearsal, Version 2)
The Wonder Of You (Feb. 18, Rehearsal, Version 3)
Release Me (Feb. 18, Rehearsal)
See See Rider (Feb. 18, Rehearsal)
Walk A Mile In My Shoes (Acetate - Feb. 18, Rehearsal)

CD 4 - Closing Show - February 23, 1970

Opening Vamp
All Shook Up
I Got A Woman
Long Tall Sally
Elvis talks
Don´t Cry Daddy
Elvis talks
Hound Dog
Love Me Tender
Kentucky Rain
Let It Be Me
I Can´t Stop Loving You
See See Rider
Sweet Caroline
Polk Salad Annie
Elvis taking a break
Introductions
Blueberry Hill (Elvis at the piano)
Lawdy Miss Clawdy
Heartbreak Hotel
Elvis talks
One Night
It´s Now Or Never
Suspicious Minds
Elvis talks
Can´t Help Falling In Love
Announcement
Reviews
The new label Backdraft kicked of with a 4CD release of Elvis' 2nd Vegas engagement. Is it a worthy addition or replacement of what we already have?

Design

Labour of love: a lot of known pictures in perfect quality, but also quite some stunning new ones. That's about all I can say about it, only the 100 page presentation is worth buying the set.

Content

Of course we all know a lot of the material that came to us before in several outings, being official or unofficial. It's simply Elvis at his best, certainly live!

The CD with the opening show has the same overloaded mike as on the original Fort Baxter release, but overall the sound is way better. Madison tried to repair this overload, with a more or less negative influence on the sound in general, but for listening pleasure I prefer the Madison outing.

The 2nd "rough mix" CD is of perfect quality. It's definitely not the same mix as on Good Times Never Seem So Good, it's less polished and because of that closer to a live experience.

CD #3 is by far my favourite of this set some unreleased versions, mixed with known material in perfect sound quality. As a matter of fact in my ears it sounds better than the same tracks on FTD's Polk Salad Annie (as far as these tracks are on PSA). Unfortunately the bonus material (mainly rehearsals) sounds a little less, but still very good.

The CD with the closing show sounds clear, with a little reverb compared to the Madison version of it. Normally I don't like reverb at all, but here it's done with taste, just a little bit.

Conclusion

If not for the artwork I still think the set is worth its money. Especially CD three is marvellous. A true collector's item and perfect debut of Backdraft!