Sittin' On Top Of The World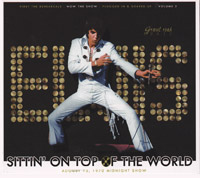 Show date:
1970/08/12 M.S.
Content
DISC 1 – A Thing Called Love / On The Other Side / Opening Theme / That's All Right / Mystery Train - Tiger Man / Monologue / Hound Dog / Monologue / Love Me Tender / Just Pretend / Walk A Mile In My Shoes / There Goes My Everything / Words / Sweet Caroline / You've Lost That Lovin' Feelin' / Polk Salad Annie / Audience Walk.

DISC 2 - Introductions / Heartbreak Hotel /One Night / Blue Suede Shoes / All Shook Up / Little Sister - Get Back / I Was The One / Love Me / Are You Lonesome Tonight / Bridge Over Troubled Water / Suspicious Minds / Can't Help Falling In Love / Closing Vamp.
Reviews
Gravel Road Music continues the That's The Way It Is-series with what is Elvis' best show, probably ever. Did we really need this show again, since BMG already released most of it?

Design

Marvelous is about the only thing I can come up with. The guitar pick is a fun extra. I was told by a real collector that it differs just enough from the original to avoid mix-up. The liner notes are interesting, song by song, with additional information like original recording dates. The only minor is that even the white text is hard to read (with my reading glasses on), the darker text is almost impossible to read (at least for me). All together I can only say this release wears the mark of the dedication of real fans.

Content

Like I said, BMG already released most of the show in their Special Edition 3CD-set. To make it fit they left some talking parts and the audience walk out. So here it is complete – again since International already did the job too, in two attempts.
The opening isn't my piece of cake, it sounds a bit messy and I am an Elvis fan, not an Imperials fan (but thank God it isn't a comedian). For the Elvis part of the show I'll make it easy and repeat what we wrote on the SE-box:

More interesting for the fans is the second CD with the complete August 12th, 1970, midnight show. If you listen to it you can only conclude it's probably one of the best shows Elvis ever gave. He is full of energy, giving it all and really firing up the band backing him up. "Words" for instants sounds so great; Elvis really had much more control of his voice than in the known 1969 versions. "You've Lost That Lovin' Feelin'", partly known but with a great reprise. We can name all 22 tracks as highlight but the entire thing is so great that you have to experience it yourself completely, believe us, when you close your eyes you really feel like being there! It only makes us longing for a boxset with all recorded concerts...

I still stand with that part and I won't more songs since they all deserve to be mentioned. This set brings a bit more compared to BMG's one. To be honest, I think I'll stick with the BMG version because the completeness isn't worth the disc-swapping to (lazy) me. The sound quality isn't really different, although this set seems to have a bit more on the high end.

Conclusion

A great release, especially for those that don't have previous outings of the show… If only FTD started to put the same dedication in their releases.