Unedited Masters - Stax 1973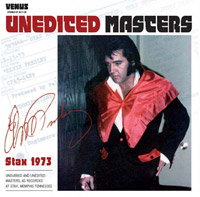 Content
1 Promised Land Take 6* 3:06
2 It's Midnight (undubbed) Take 19 4:45
3 If You Talk In Your Sleep Unedited master 2:50
4 Thinking About You Unedited O.V. master 4:53
5 Love Song Of The Year Unedited O.V.master 3:59
6 Help Me (with false Start) overdubbed master 2:52
7 My Boy unedited O.V. master 3:23
8 Loving Arms (with backing vocals) overdubbed master 3:03
9 Good Time Charlie's Got The Blues une. undubbed master 4:42
10 Talk About The Good Times Unedited O.V. master 2:58
11 Your Love's Been A Long Time Coming Unedited OV. Master 4:00
12 There's A Honky Tonk Angel Unedited O.V. master 3:24
13 If You Talk In Your Sleep Backing vocals overdub 2:24
14 If That Isn't Love Take 1 4:04

* Take 6 V.O. : Vocal harmony by Elvis ( unedited )

Bonus tracks :
15 Blue Hawaii rehearsal (incomplete) 0:52
16 Dialogue 1:30
17 Blue Hawaii /dialogue Take 1 1:29
18 Blue Hawaii Take 2 2:34
19 Dialogue 2:15
20 Ku-U-I-Po Take 1 2:36
21 Dialogue / No More Take 1 3:34
22 Dialogue / Hawaiian Wedding Song Take 2 1:04
23 Hawaiian Wedding Song Take 3 1:55
24 Hawaiian Wedding Song Take 4 2:04
25 Early Morning Rain Take 2 3:00
Reviews
Venus' latest outing contains as the title suggest unedited masters from Stax 1973 and as bonus the recordings made after the Aloha-rehearsal.

Design

As usual with Venus this is okay. The booklet contains many candid shots of our man, including the famous ones with the turban. There are also some Aloha shots included. There are no liner notes and the track information is on the back of the case.

Content

The content is not spectacular, but very attractive. I always thought a lot of the overdubs made Elvis drown in the music and on this disc we hear more of the base: Elvis and the band. More important to me is that this disc contains most of my favourite 70's tracks. Loving Arms, Good Time Charlie's, Thinking About You, Talk About The Good Times, Promised Land and If You Talk are all there.
Unfortunately the bonus tracks are not my piece of cake, I never really liked the songs recorded after the Aloha-rehearsal, except Early Morning Rain. Then again… it's not a real punishment to listen to them.
As usual with this label the sound quality is superb!

Conclusion

I could have compiled it more or less from other CDs, but not in this quality. Actually, I'm quite happy with this disc.