Spanish Eyes By Request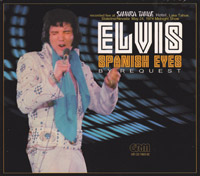 Show date:
1974/05/24 M.S.
Content
See See Rider
I Got A Woman/ Amen
Love Me
Tryin' To Get To You
All Shook Up
Love Me Tender
You Don't Have To Say You Love Me
Hound Dog
Fever
Polk Salad Annie
Why Me Lord
Suspicious Minds
Band introductions
I Can't Stop Loving You
Help Me
Bridge Over Troubled Water
Let Me Be There
Spanish Eyes
Big Boss Man
Funny How Time Slips Away
Can't Help Falling In Love
Reviews
Gravel Road revamped another classic bootleg, this time Fort Baxter's Spanish Eyes, containing the show in Lake Tahoe on May 24, 1974 MS. Is it an improvement?

Design

The design is certainly an improvement over the cartonboard sleeve of the original. A nice booklet, containing mainly shots of Elvis in the rainbow suit completes the nice cover. I belong to the lucky bastards that received an inventation for opening night on almost A4 format, okay it is almost 30 years too late, but still... also a greeting card was added. Both cards carry great shots from Aloha.

Content

The soundquality has certainly improved. There is more "space" and that makes the show more lively. I did it before and once again an old review matches my opnion very closely, so here are the wise words of Mark LittleJohn, USA:


"This a very interesting release from FT. Baxter featuring the May 24, 1974 midnight show from Lake Tahoe, Nevada. In my humble opinion three songs make this cd a cut above the rest and they are "Bridge Over Troubled Water, Spanish Eyes, & Big Boss Man." However, I think the master tape is a tad slow as compared to other soundboards recorded before and after this engagement. I say this because Elvis' voice sounds unusally deep on all three released soundboards available from this season in Tahoe and both "Polk Salad Annie & Suspicious Minds" are definitely dragging.
The show starts during the instrumental intro to "See See Rider" and this is a good version with some interesting audience interplay afterwards as Elvis comments there are a bunch of sex maniacs in the audience. "I Got A Woman" is next and it's a good one, although I think the well-wells got overdone. Next are "Love Me, Trying To Get To You, All Shook Up, & Love Me Tender." All are performed well, but without much fire. "You Don't Have To Say You Love Me" had replaced "Steamroller" for this engagement and although it is well done, I think it was a mistake as "Steamroller" always added spark to this half of the show. "Hound dog & Fever" are next and are fairly standard. "Polk Salad Annie" is next and sounds slow and the windup is entirely too long. J.D. Sumner & The Stamps take the lead for "Why Me, Lord?" with Elvis comming in on the chorus and this is well done. "Suspicious Minds" suffers from an unusually slow pace and this is a shame as the orchestra was making a pretty fair effort.

The introductions are next and are followed by a pretty fair "Can't Stop Loving You." Elvis then introduces his new single "Help Me" which is great, but what about the flip side(If You talk In Your Sleep)? He would not start to perform this smoky number until August. Next we have an outstanding "Bridge over Troubled Water" with Elvis finally putting out some extra effort. "Let Me Be There" is well done and now comes the title track. Elvis recorded "Spanish Eyes" in December of 1973 and began performing it live at his January 1974 Las Vegas engagement. The version we have here is superb, with a wonderful swinging instrumental from the Al Tronti Orchestra. A terrific "Big Boss Man" follows and even Elvis comments that they finally got it right. An average "Funny How Time Slips Away" is next and leads to the show's conclusion with "Can't Help Falling In Love."

All in all, this is a fairly good show with more pro's than con's. The three songs I highlighted more than make up for any slack created by the remainder of the material."

I left out Mark's remarks about the original cover, since that is totally out of place with this release.

In other words, it is certainly not Elvis' best shows, but it is also far away from the bad ones. The few gems make it worthwhile.

Conclusion

Those that don't have the original should go for this one. Others, well, the artwork improvement is tremendous, but you have to make up yourself if the sound improvement is worth going for it again...