On A Jet To The Promised Land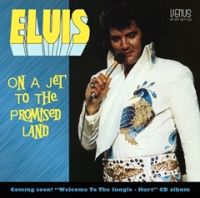 Content
1 Promised Land Take 1 2:32
2 There's A Honky Tonk Angel ( who takes me back in ) ** Take 1 3:22
3 There's A Honky Tonk Angel ( who takes me back in ) Fs, Take 2 1:41
4 There's A Honky Tonk Angel ( who takes me back in ) Take 3 3:35
5 My Boy * Take 1 3:37
6 My Boy * Take 2 3:54
7 Love Song Of The Year Take 1 3:35
8 Your Love's Been A Long Time Coming ** FS, Take 4 3:25
9 Thinking About You * FS, Take 3 5:05
Tracks 7 & 9 recorded 12-12-1973
Tracks 5 & 6 recorded 12-13-1973
Tracks 1,2,3,4 & 8 recorded 12-15-1973
* Previously released ** Unedited
Reviews
A surprise release by Venus was announced just over a week and released about immediately, maybe in connection to the title.

Design

The CD comes in a carton sleeve, like some of the bootlegs in the 1990s. The design fits the 1970's releases, showing Elvis in the peacock suit on both the front and back.

Content

Promised Land, take 1 is the version that has the Hammond organ starring, a version I always liked. On the other hand, I like this song in any version.
Honkey Tonk Angel is a beautiful ballad, and having three early takes in a row and – more important – in superb quality is great. I particularly like the different phrasing in take 3, and no, I am not talking about the ending (which is funny).
My Boy is quite different, especially take 1. The backing vocals are just supporting, and not as overwhelming as on the final release. It is one of the many undubbed versions I like better than the overdone released versions. Elvis' vocals aren't that different, but they just flourish more.
Love Song Of The Year is not my song, and also this version doesn't really make me happy.
Your Love's Been A Long Time Coming is another one of those not so strong songs. Strangely enough I have a weak spot for it and enjoy it any time.
In my ears one of the best songs Elvis recorded in the 1970s, Thinking About You, closes the short EP-like CD. The guitar solo is a bit longer, but overall it doesn't differ much from the master.

Conclusion

A short but worthy release in superb sound quality. Hopefully it announces more to come from this session.