Good To Be Back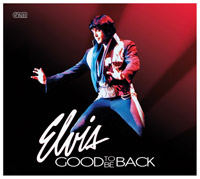 Show date:
1975/12/13 M.S.
Content
01. C C Rider 02. I Got A Woman - Amen 03. Love Me 04. Tryin To Get To You 05. And I Love You So 06. All Shook Up 07. (let me BeYour)Teddy Bear - Dont Be Cruel 08. You Gave Me A Mountain (with false start) 09. Help Me Make It Through The Night 10. Polk Salad Annie 11. Band Introductions 12. Johnny B. Goode (by James Burton) 13. Drum Solo (by Ronnie Tutt) 14. Bass Solo (by Jerry Scheff) 15. Piano Solo (by Glen D. Hardin) 16. School Day 17. School Day Reprise 18. Just Pretend 19. How Great Thou Art (with reprise) 20. Burning Love 21. Hound Dog 22. Welcome To My World (partly) 23. Softly As I Leave You (with Sherril Nielsen) 24. America,The Beautiful 25. Its Now Or Never 26. 'O Sole Mio (sung in Italian by Elvis) 27. Little Darlin' 28. Little Sister 29. Cant Help Falling In Love 30. Closing Vamp.
Reviews
Gravel Road Music released another oldie in a new jacket and they promised in a better quality too. Did they succeed with this December 13, 1975 Midnight Show?

Design

The new jacket is a huge improvement compared to the original Fort Baxter-release Just Pretend. The booklet is printed like a souvenir menu from the engagement, with many pictures of the actual show. The liner notes are a good read, pleasantly written, but add nothing really new (but who would expect that?).
I am among the lucky ones that got the "special tour folio photo album". This little on thick glossy paper is a little jewel on itself and contains some great shots of The King in action.

Content

To me this engagement is the last moment Elvis really sounded great. Of course the December '76 tour is acceptable too, but here his voice really rules. The sound has really improved. The distortion caused by too loud recording is still present, but less annoying than on the original, probably because everything sounds a bit fuller and richer.

To me the highlights are Tryin' To Get To You, How Great Thou Art (probably one of the best live versions ever) and Just Pretend, but the whole show is well balanced, good humoured (but not too distracting) and a very enjoyable listen. For those that are not familiar with this show, let Patrick Johansson from Sweden convince you with his review of FB's Just Pretend:

"This CD is the first that the Fort Baxter label released in their "From the mastertapes"-series, and it's one hell of a start! Needless to be said, it is a soundboard recording and the sound is of excellent quality. Even though the sound is in mono, not stereo, every instrument, the backup-singers and, of course, Elvis is clearly heard and in balance.
The CD contains a complete concert (with the exception of "Also Sprach Zarathustra") from December the 13th, 10.15pm, and it is recorded during Elvis' "pre-holiday jubilee" at the Las Vegas Hilton. Usually, Elvis did play in Vegas twice a year, at the beginning and during the summer. This Vegas-season was however Elvis' third during 1975. The reason for this was that he had to cancel his August-September engagement due to illness after only five shows, so he had to return to Vegas in order to fulfil his contract.

Three months off the road and away from the Hilton showroom must have been just what Elvis needed. When he returned to the stage in December, he was in good spirits and his voice probably stronger and better than ever. This you can hear in the featured concert, and Elvis also got very good reviews in the music magazines for this Vegas-season. The journalists noted that he was a bit thicker around the waist the earlier during the year, but gave him good credits for the shows. "Melody Maker" wrote that it was Elvis' strongest performance for many years and noted that he seemed to care about the shows again. Also "Los Angeles Times" wrote that his shows were now tighter than earlier in the year, and admired his performance of especially "How Great Though Art". Enough about that, what about the show?

From beginning to end Elvis and is band are rocking! They kick off with one of the best versions of "See See Rider" that I have ever heard and even Elvis comments Ronnie Tutts incredible drumming at the ending of the song. After a better than usual "I Got A Woman", Elvis says to the audience "Good evening and welcome! We know who you are… And you think you know who I am!" and, after talking a bit to a woman and giving her a scarf, goes into the ordinary "Love Me", but with an extremely long ending tone where the back-up singers are put to the test. A strong version of "Trying To Get To You" follows and Elvis vocal is nothing but breathtaking! The next song "And I Love You So" is sung with passion and feeling, and because of the good sound quality you can hear the beautiful string arrangements clearly. Then we have "All Shook Up" and "Teddy Bear / Don't Be Cruel" which sounds the same as always…

Anyway, there's no reason to go through every single song so let's talk about the outstanding ones instead. (There aren't any bad performances or lack-lustres in this show!) Elvis sings, on request from Mr and Mrs Thompson (Elvis' girlfriend Linda Thompson's parents), "Help Me Make It Through The Night" and turns it into one of his strongest live songs ever. Again his strong and deep vocals are impressive. This is also the case in "Just Pretend", which was far too rarely performed live by Elvis, but this fantastic version makes up for that!

"Burning Love" shows that Elvis can still rock the roof of any old showroom. This version is faster and tighter than for example the studio version and the live version from "Aloha From Hawaii". Listen especially to the last verse where The Sweet Inspirations sings a very soul- influenced back-up which adds a new dimension to this already superb song. Rock'n'Roll at it's very best! Before "Burning Love" Elvis gives another astonishing performance. "How Great Though Art" is more or less always the most intense performance of an Elvis' concert, even the ones where he sings bad are seems completely uninterested in the rest of the songs. Here you have Elvis in the best of moods with his voice stronger than ever… The performance of his career of this particular song if you ask me. When Elvis repeats the last verse and goes up with his voice, I get goosepimples!

Apart from the above we also get "America, The Beautiful" another show-topper, which in a way took over from "An American Trilogy" as the patriotic moment of Elvis' shows. It was in this Vegas engagement that Elvis introduced this song. He then sang it frequently during 1976.

Elvis ends the show with an entertaining "Little Darling" and a rocking "Little Sister" and of course, "Can't Help Falling In Love". But first he tells the audience that it has been a pleasure working for them, talks a bit about that he has been away for a while, wishes everyone a merry Christmas and a Happy New Year and bids the audience "an affectionate farewell"

Apart from astonishing performances from Elvis and a tight and rocking TCB-band, this CD gives you a bit of a show with Elvis joking with the audience and chatting to the band. This is clearly one of the best CD's on the market with concerts from Elvis' final years, and I recommend it to every Elvis-fan."

Conclusion

Only the package makes this release worthwhile to those that have the original, for those that haven't got the original this release is a must, since it's Elvis' best performance after the summer of '75.