The First Time Ever I Saw Your Face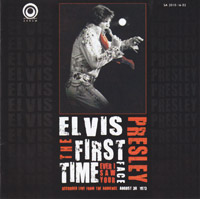 Show date:
1973/08/30D.S.
Content
Also Sprach Zarathustra
See See Rider
I Got A Woman/ Amen
Love Me
Steamroller Blues
You Gave Me A Mountain
Trouble
Long Tall Sally/ Whole Lotta Shakin' Goin' On/ Your Mama Don't Dance/ Flip, Flop & Fly/ Hound Dog
Love Me Tender
Fever
Bridge Over Troubled Water
Suspicious Minds
Introduction musicians, singers
Introduction celebrities
Release Me
Introduction Red and Sonny West
An American Trilogy
Introduction Lisa Marie
The First Time Ever I Saw Your Face
Heartbreak Hotel
Johnny B. Goode
How Great Thou Art (with reprise)
Can't Help Falling In Love
Closing Vamp
Reviews
Straight Arrow released You Don't Have To Say You Love Me and this CD around the same time. Both are audience registrations of 1973 shows. Will the comparison end here?

Design
Unlike You Don't Have To Say this release of the August 30 Dinner Show in Vegas has a booklet and a neat one! A lot of the pictures are take from scans of the original negatives (Caught in a trap, Deelen/ Van Houten), so the quality is extremely good for a CD-booklet. The liner notes are fun to read, but the first part very hard (dark red tekst on a black background). The tekst cloud used for the title is very stylish.

Content
The sound of The First Time is of much better quality than You Don't Have To Say. It doesn't belong to those few toppers like Gyrating Asheville, but it's only one step less. Elvis is clearly audible and seems to have a lot of fun himself. The rarities Trouble, Release Me (hardly serious, but fun) and the beautiful rendition title track alone make this CD worthwhile. Add some great performances (Steamroller, Bridge! How Great Thou Art) and as said, Elvis in a good mood and you'll have an enjoyable CD from start to finish. Talking about the finish… the last song was taken from another source, since the tape was full. Unfortunately the quality is not as good, but at least the show is still complete.

Conclusion
It's been quite a long time since I enjoyed an audience recording as much as this one! I certainly do recommend this Straight Arrow release.