You Don't Have To Say You Love Me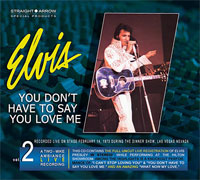 Show date:
1973/02/15 D.S.
Content
01. Introduction: Also Sprach Zarathustra - 02. C. C. Rider - 03. I Got A Woman / Amen - 04. Love Me Tender - 05. You Don't Have To Say You Love Me - 06. Steamroller Blues - 07. You Gave Me A Mountain - 08. Fever - 09. Love Me - 10. Blue Suede Shoes - 11. Heartbreak Hotel - 12. Johnny B. Goode - 13. Hound Dog - 14. What Now My Love - 15. Suspicious Minds - 16. Band Introductions - 17. I Can't Stop Loving You - 18. An American Trilogy - 19. Can't Help Falling In Love - 20. Closing Vamp / Announcements.
Bonus: 21. What Now My Love (with false start and reprise, recorded at the February 21, 1973 Dinner Show).
Reviews
Another Straight Arrow release finally reached me. This time it brings "a two mike ambiance live recording" of the show on February 14, 1973 in Las Vegas.

Design
As usual the design of the fold out case is tasteful, with pictures of the king on stage and some background information.

Content
The show is an audience recording, as said in the intro, with two mikes. I can easily conclude that the people on the right shouted louder than the people on the left! To me the result is an average sounding audience recording, with the instruments (especially the guitar) very clear and Elvis a bit too far in the background.

The show on the other hand is one of the better of the engagement with as highlight to me a Steamroller in overdrive. Also Heartbreak Hotel gets a good treatment, which is quite remarkable for an oldie. Like the front cover promised What Now My Love is a great version too and Suspicious Minds gets the usual showstopper treatment.

Even with the bonus track the CD is only 50+ minutes, which is very short. This is due to Elvis' health problems at that moment.

Conclusion
Merely for collectors: the show is not really special and the sound quality is not among the best.