Hilton's All Shook Up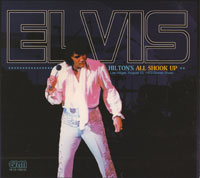 Show date:
1972/08/12 D.S.
Content
2001 Theme
See See Rider
Proud Mary
Until It's Time For You To Go
You Don't Have To Say You Love Me
You've Lost That Lovin' Feelin'
Polk Salad Annie
What Now My Love
Fever
Love Me
Blue Suede Shoes
One Night
All Shook Up
Teddy Bear/ Don't Be Cruel
Heartbreak Hotel
Hound Dog
Love Me Tender
Suspicious Minds
Band Introductions
My May
An American Trilogy
Can't Help Falling In Love
Reviews
For this review I can use the same receipt as earlier this week for "… At Full Blast": a little by myself and some by Mark Littlejohn, since this CD is a re-release of Blazing Into The Darkness (which was wrongly dated as being the August 11 D.S.).

Design
Compared to the original I can say at least they used a picture from the same year. I like this artwork a bit better than that of "… At Full Blast". Probably because of the colors, since it's merely in the same (tastefull) style. Two original reviews, some pictures and the tracks.

Content
As said, it was released before as Blazing Into The Darkness, which used to be one of my favourite live shows. This version adds a little more "space" to the sound, but again it is not a huge improvement (which was almost impossible in my ears anyway).

As promised, here is what Mark Littlejohn had to say about the original, still assuming it was dated correctly:

It only took a year for this excellent release from Premier to finally arrive, but it was worth it. There are many things I like about this cd; from the excellent sound and song selections to the supremely confident attitude of the performer. But most particularly, you can still hear the voice of the twenty-one year old Elvis in certain passages.

The cd starts off with "Also Sprach Zarathustra (Theme from 2001)" and rolls into excellent performances of "See See Rider and Proud Mary." A very good effort on "Until It's Time For You To Go" follows and leads into the familiar coupling of "You Don't Have To Say You Love Me and You've Lost That Lovin' Feeling." Both are very well done. A long intro begins "Polk Salad Annie" and you can hear the twenty-one year old growl during the "sock alittle" windup. A brief welcome is offered while Elvis catches his breath and is subjected to about 2000 requests for one song or another. He gives the usual response of "I'll sing all 529 of 'em" and then admits he's also the world's biggest liar. But it's all in good fun so no offense is taken. Getting serious for a moment allows the introduction of "What Now, My Love" and this is without doubt one of the most potent ballads ever performed by Elvis. Then follows a sensual performance of "Fever." Both of these songs were excellent additions to Elvis' live show.

A generous medley of hits follows, highlighted by "One Night & Heartbreak Hotel." Mr. & Mrs. Tippler are then introduced as the couple who hired Elvis at Crown Electric in Memphis and he thanks them for the job. "Suspicious Minds" brings on some tree hugging comments towards Charlie Hodge during the bridge, but is wound up in the usual all out mode. Elvis then introduces his backing musicians and good friend Telly Savalas.

"My Way" is the third new song introduced at this engagement and coupled with "An American Trilogy," make for a show stopping finale! Although Elvis made a few humorous cracks about not wanting "My Way" associated with his life-"the end is near and all that jazz; I haven't even spit it out yet, I'm still chewing on it," it's obvious he likes the song or he wouldn't bother with it. "Can't Help Falling In Love" brings the show to it's conclusion and is sung pretty much word for word.

All things considered this is a great dinner show from August 11, 1972 at the Las Vegas Hilton with Elvis in a confident mood, giving excellent performances on almost every song, and generally seeming to enjoy being on stage. If you have ELVIS AT FULL BLAST you will have the midnight show from this same date and can treat yourself to two great performances with a varied song selection from the same evening in Las Vegas. This is a cd that should be added to any collection. I would like to see more soundboards from this engagement, especially one featuring the first live performances of "Steamroller Blues."

Conclusion
Those that missed the original are ordered to buy this one! The others, well... decide yourself.