The Elvis Summer Festival Continues At Full Blast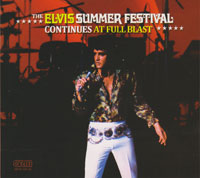 Content
2001 Theme
See See Rider
I Got A Woman
Proud Mary
Until It's Time For You To Go
You've Lost That Lovin' Feelin'
Polk Salad Annie
What Now My Love
Fever
Love Me
All Shook Up
Teddy Bear/ Don't Be Cruel
Heartbreak Hotel
Blue Suede Shoes
Little Sister/ Get Back
Hound Dog
It's Over
Suspicious Minds
Band introductions
My Way
A Big Hunk O' Love
An American Trilogy
Can't Help Falling In Love
Reviews
Last week Gravel Road Music released two 1972 Las Vegas shows. The first was released by Fort Baxter back in 1995 as Elvis At Full Blast. Gravel Road extended the title to The Elvis Summer Festival Continues At Full Blast. Is it only a change of title?

Design

As we are used to by now Gravel Road is one of those labels that is run by dedicated people. The artwork is tasteful and accurate. The pictures used are not all totally focused, but at least they used pictures of the right season!

Content

The most important is the sound quality of course. Obviously Gravel Road's tape is from the same origin as Fort Baxter's, since it has the same flaws during I Got A Woman. There the story ends, since this release sounds obviously better than the good old FB release.

For those that are not familiar with the content, I include this excellent description of the content by Mark LittleJohn:

"Here we have another outstanding effort from the Ft. Baxter people featuring the midnight show from August 11, 1972 and if you don't have this disk in your collection, you should be kicking yourself. Although this cd did not come in a jewel box, it features some nice photos and some technical notes apologizing for minor sound fluctuations during "I Got A Woman" and an editing flaw during "Suspicious Minds" that I could not find.
This cd starts with the usual "Theme 2001" and then rumbles into an excellent triple shot of "See See Rider, I Got A Woman, and Proud Mary." The relatively new ballad of "Until It's Time For You To Go" is next but Elvis is caught choking on too large a sip of water and the intro is extended while he regroups. "You've Lost That Lovin' Feeling" follows and is very well done, especially with the full backing of the orchestra. "Polk Salad Annie" has a long intro as some of the ringside ladies catch Elvis' attention and this leads to an interesting instrumental before the whirlwind conclusion. Some funny dialogue lends to the performance of "What Now, My Love" and it is powerfully done. This is proof positive that when Elvis was feeling supremely confident, there was no better performer on the planet. Who else could blend some funky southern rock with a big ballad and do justice to both.

A smoldering "Fever" kicks off an extended medley of hits featuring "Love Me, All Shook Up, Teddy Bear/Don't Be Cruel, Heartbreak Hotel, Blue Suede Shoes, Little Sister/Get Back, and Hound Dog." After this Elvis is looking for something different and flat out rejects "Burning Love" and says "let's do something like It's Over," which is well done. I have never understood why he didn't like "Burning Love; " it's such a great song with a Creedence Clearwater Revival feel, although he would perform it on a regular basis starting in 1975. "Suspicious Minds" is cranking as usual and brings us to the introduction of musicians.

"My Way " is the second outstanding ballad introduced at this engagement and it is given a very strong presentation here. "A Big Hunk of Love" demonstrates that Elvis isn't quite done rockin' yet, highlighting both Glenn Hardin and James Burton on the instrumentals. And now we come to the awesome finale of "An American Trilogy." This song was one of the most moving elements of Elvis' concerts, and drew more standing ovations than anything else he would ever perform. When I saw him in 1975 the ovation for this song was deafening! Elvis would windup alot of the shows at this engagement with big ballads and this was fine because he offered plenty of rock during the heart of the shows. "Can't Help Falling In Love " brings the curtain down on this outstanding show.

I have every soundboard from 1972 and this show along with AN AFTERNOON IN THE GARDEN are my two favorites, although I will give LIVE IN VIRGINIA a close tie for second. This cd has been out of print for a while, but if you can find a copy someone is dumb enough to let go of, GRAB IT !"

Conclusion

Certainly for those that missed the original Fort Baxter, this CD is a must. It is one of the last seasons Elvis really sounded dedicated and it is a way above par show. Even those that have the original may go for the sound improvement.