Our Memories Of Elvis, Volume 3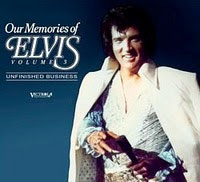 Content
01 Hurt (undubbed) 02:13
02 Shake A Hand (undubbed) 03:56
03 Promised Land (undubbed) 02:29
04 Heart Of Rome (undubbed) 03:00
05 If You Don't Come Back (undubbed) 02:52
06 Woman Without Love (undubbed) 03:38
07 Moody Blue (undubbed) 03:46
08 For Ol' Time Sake (undubbed) 03:42
09 It's A Matter Of Time (undubbed) 03:06
10 Sweet Angeline (undubbed) 03:05
11 Mr Songman (undubbed) 02:12
12 When I'm Over You (undubbed) 03:33
13 Love Coming Down (undubbed) 03:11
14 Early Morning Rain (vibes overdub) 02:59
15 Blue Eyes Cyring In The Rain (remix) 03:45
16 Love Song Of the Year (undubbed master) 03:16
17 Moody Blue (unedited undubbed master) 03:58
18 Promised Land (undubbed master) 02:35
19 Sweet Angeline (vocal overdub by Elvis) 03:12
20 Mr. Songman (undubbed master) 02:19
21 If You Talk In Your Sleep (undubbed master) 02:23
22 Help Me (vocal harmony overdub) 02:33
23 It's Midnight (vocal harmony overdub) 03:26
Reviews
Victrola recently released Volume 3 of the Our Memories-series. At first I was afraid I thought, oh no, not another series like the Tiger Man Anthology or A Legendary Performer, but I was glad to find out it was a planned volume originally.

Design
The fold out case has a very tasteful design. The liner notes are explaining the project by Joan Deary. They are supported with a legend from 1979 and a sheet of a 24-track tape. Furthermore the finished artwork for the original Volume 3 is included, as is a nice live shot and the great Bonja picture of Elvis in the plane (1970).

Content
Some tracks have a different mix, some are just undubbed or less dubbed. I am one who likes the undubbed versions, since Elvis sounds often much fresher with just the band. Although there are some weak songs included I found the listening of the CD a great pleasure. It even kept out Tom Jones' latest out of my player for a week now (which is, by the way, one of the best albums ever imho)! Shake A Hand, Moody Blue, the beautiful For Ol' Time Sake, If You Talk In Your Sleep, It's Midnight and Thinking About You are among my favourite 70's tracks anyway and they make up a big part of this silver disc.

In general the sound is very good, but some of the "bonus" tracks are not perfect.

Conclusion
Finally a bootleg again that will find its way to my player more often. The (easy) listening pleasure of it makes it possible to play in company of non fans too.