Welcome To The Jungle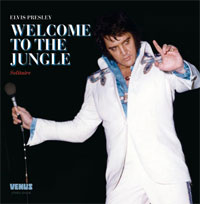 Content
1- Solitaire (Take 1) 2:28 ; 2- Solitaire (Take 2) 2:06 ; 3- Solitaire (Take 3) 4:47 ; 4- Solitaire (Takes 6-7) 5:21 ; 5- Solitaire (Take 8) 4:39 ; 6- Solitaire (Takes 9-10) 0:58 ; 7- Solitaire (Undubbed master) 4:37 ; 8- Solitaire (Different mix) 4:43 ; 9- Solitaire (Master) 4:43 ; 10- Moody Blue (Take 3) 3:46 ; 11- Moody Blue (Take 4) 3:30 ; 12- Moody Blue (Take 5) 4:01 ; 13- Moody Blue (Take 6) 4:12 ; 14- Moody Blue (Take 7) 1:33 ; 15- Moody Blue (Takes 8-9) 0:58 ; 16- Moody Blue (Undubbed master) 3:57 ; 17- Moody Blue (Master) 2:54
Reviews
Venus released a CD with only 2 songs: Solitaire and Moody Blue, recorded in the Jungle room, hence the title Welcome To The Jungle.

Design
The informative booklet is decorated with many life shots, of course mainly from 1976. The CD is remarkably funny: a gorilla with an Elvis-wig and guitar, drawn in cartoon style.

Content
The sound starts crystal clear. It is as if Elvis is recording in your room. Unfortunately Solitaire is not among my favourites and after 3 takes I had enough of it and decided to skip a bit. I skipped to the different mix and that underlined immediately how good the quality WAS, since this track and the masters sound very compressed compared to the outtakes.

Moody Blue was easier to complete, but also here I got bored after a while. Where are the days I was happy with (nearly) complete sessions? I guess more than 10 years ago…

Conclusion
For completists, besides the fact these are not Elvis' best recordings I get no listening pleasure whatsoever from the same song going on and on and on.