Faded Love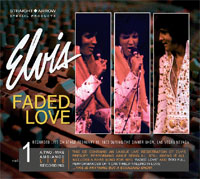 Show date:
1973/02/15 D.S.
Content
01. Introduction: Also Sprach Zarathustra
02. C. C. Rider
03. I Got A Woman / Amen
04. Love Me Tender
05. You Don't Have To Say You Love Me (with false start)
06. Steamroller Blues
07. You Gave Me A Mountain
08. Fever / Elvis left the stage
09. Walk That Lonesome Road (J. D. Sumner & The Stamps)
10. Sweet Sweet Spirit (The Stamps)
11. When It's My Time (Bill Baize & The Stamps)
12. How Great Thou Art (Donnie Sumner & The Stamps)
13. I Should Have Been Crucified (Ed Enoch & The Stamps)
14. Can't Help Falling In Love #1
15. Faded Love (first live version)
16. I'm So Lonesome I Could Cry (last live version)
17. Polk Salad Annie (first of two versions performed in 1973)
18. An American Trilogy (with false start)
19. Can't Help Falling In Love #2
20. Closing Vamp / Announcements
21. After show comments.
Reviews
This CD ended up in my mailbox a couple of weeks ago, at the same time as the Our Memories CD. The disc contains the "famous" February 15, 1973 D.S.

Design
The foldout case has merely pictures from the January/ February engagement. There an excerpt of a personal review of the show and an explanation about ambiance recordings. All together the whole ended up as a nice package.

Content
The so called ambience recording makes this an above average audience recording, but it is certainly not the best around. Of course the sound is pretty important, since some audience recordings are hardly listenable, you can't even recognize Elvis at all. That is not the case on this particular show. You can hear it is Elvis – when present. That last remark defines the pleasure of an Elvis CD to me… he MUST be present. Unfortunately Elvis was ill this night, sang some weak versions (understandable, but still), went of the stage, the Stamps took over, before Elvis returned. No need to say this show is not among my favourites. Okay, Faded Love live is pretty rare, but sitting through the Stamps for five songs before hearing it, is not my piece of cake. Elvis recited "Oh how I wish I was in the doctor's office" and he should have done just that, instead of going on stage.

Conclusion
This CD is for historical reasons a nice addition to the collection, but for me it will be just another shelf-filler.