The Bicentennial King, Vol. 1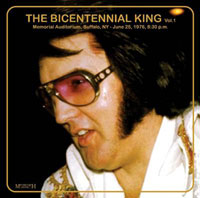 Content
1. Also Sprach Zarathustra
2. See See Rider
3. I Got A Woman / Amen
4. Love Me
5. If You Love Me (Let Me Know)
6. You Gave Me A Mountain
7. All Shook Up
8. Teddy Bear / Don´t Be Cruel
9. And I Love You So
10. Jailhouse Rock
11. Fever
12. America The Beautiful
13. Polk Salad Annie
14. Introductions / Early Morning Rain
15. Introductions / What I´d Say
16. Introductions / Ronnie Tutt Solo
17. Introductions / Jerry Scheff Solo
18. Introductions / Tony Brown Solo
19. Introductions / David Briggs Solo
20. Introductions / Love Letters
21. Introductions / Hail Hail Rock ´n´ Roll
22. Hurt
23. Hurt (2nd Version)
24. Burning Love
25. Happy Birthday To Barbara
26. Funny How Time Slips Away
27. Can´t Help Falling In Love
28. Closing Vamp / Announcement
Reviews
What's worse than a soundboard of a poor show? Indeed… an audience recording of a poor show. So with this June 25, 1976 Buffalo-show I was prepared for the worst…

Design
The design of this Millbranch Music release is tasteful, and I guess you can't do more than this with pictures of an Elvis in this shape. The booklet contains 3 newspaper (p)reviews of this show, two by the Courier Express and one by Buffalo Evening News. The whole is 'decorated' with pictures of Elvis from this show.

Content
While reading the newspaper reviews I was pleasantly surprised by the sound. It is certainly not among the very best audience recordings, but far from the worst too. Elvis sounds pretty focused and in a good mood. During the I Got A Woman/ Amen medley the venue really sounded like having a ball. Funny is that this performance is the highlight of the show according to both reviews, at least the most spoken of.

I did surprise my self by not having the urge to turn the show off, until the solos reached the David Briggs part. Even And I Love You So got a pretty decent treatment, while in so many 1976 shows it is totally out of tune. Probably due to a tape shift (or turn) the intro of Early Morning Rain starts pretty abrupt, Elvis was still trying to get is breath back after Polk Salad (also a more than decent performance compared to other later versions). The sound differs a bit after this shift, a bit better since there are more high tones available. As said, David Briggs forced me to reach for my RC… Love Letters gets a nice treatment, also not out of tune this time!

After the (by now) boring Hail Hail Rock 'n' Roll (School Days) it's time for the hit single of the moment, often the showstopper in otherwise boring (or worse) '76 shows, indeed Hurt…. Well, nothing here to be hurt of here, it is not the best version, but he could carry it easily this time. Burning Love gets an okay treatment too, before turning the houselights on, singing Happy Birthday for a fan (Barbara) and carrying the crowd away with Funny How Time Slips Away…Here is where the show stops for me, because my personal aversion against Can't Help Falling In Love will never make it possible for me to like any version of the lullaby.

Conclusion
Well, I was pleasantly surprised by this release. It is the well known exception to the rule, in this case that most of Elvis' 1976 performances stink. Still I don't think I will play it often, since there are so many really good Elvis shows, but for a 1976 show it is more than decent.