Let Me Be The One - Behind Closed Doors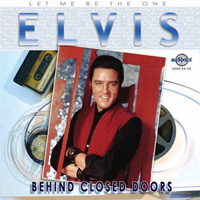 Content
01. Dialogue / Spanish Eyes #1 / Dialogue ; 02. Young At Heart (partial) / Dialogue ; 03. Let Me Be The One ; 04. Baby, What You Want Me To Do ; 05. I'm So Lonesome I Could Cry ; 06. Rocky Top (instrumental); 07. Spanish Eyes #2 (with reprise) ; 08. C. C. Rider ; 09. That's All Right, Mama; 10. Your Life Has Just Begun; 11. Tear Drops / 'sorority songs'; 12. Elvis recites a poem / Dialogue ; 13. You'll Never Walk Alone (partial) * ; 14. If I Loved You * ; 15. The Lord's Prayer / If I Loved You (reprise) * ; 16. I Wonder, I Wonder, I Wonder * ; 17. An Evening Prayer (partial) * ; 18. Make Believe * ; 19. She Wears My Ring *; 20. Sweet Leilani #1 * ; 21. Sweet Leilani # 2 * ; 22. Sweet Leilani (reprise) ; 23. Beyond The Reef ; 24. When The Swallows Come Back To Capistrano ; 25. He ; 26. Hands Off ; 27. Lawdy Miss Clawdy (partial)

Tracks 1-3 recorded in Elvis Presley's Home, Palm Springs, CA,- April 1974.

Tracks 4-11 recorded at Sam Thompson home, Memphis, TN - November 1973.

Tracks 12-25 recorded at EP's Residence at Monovale Dr., Hollywood, CA. - November 1960.

* denotes stereo recording

Total running time: 52:15
Reviews
Finally a "new" song showed up, is it worth a CD?

Design
The cover is partly based upon the legendary 4LP set Behind Closed Doors, the addition of tapes and a cassette perfectly fits the source – home recordings – of the content.

The 32 page booklet is too thick for a normal CD case. It opens with a picture of Graceland – strange, since none of the recordings were taped there. The informative and interesting liner notes are merely decorated with candid shots, but there are also some publicity shots used.

Content
The CD opens with the "new" material. The sound is okay, better than most home recordings, slightly less than the known 1973 material from Sam Thompson's house. A funny version of Spanish Eyes precedes Young At Heart, which is just more than a one-liner. Then – drum roll – it is time for – more drums – the new track! Not less than 32 years after his passing Elvis brings us a new song. Let Me Be The One is not really spectacular as song, but the (explicit) humor and Elvis playing with the base line and a pretty good finale makes it all worth while.

That's about all that can be said about this CD, since the "Sam Thompson stuff" is known, although the quality on this disc is slightly better than on other releases. It is fun to hear every now and then, but not something I return to often.

The 1960 stuff may be in stereo for a part, but shitty sound in stereo stays shitty sound. Especially the beginning is way too loud, which makes listening NOT a pleasant experience. It gets better on the way, but in general it's not my piece of cake. The songs that I do like (Keep Your Hands Off Of Her, Lawdy Miss Clawdy) are way too short.

Conclusion
The title track will certainly end up on my MP3 player (for a while) and I might gift the 1970's stuff a few spins, but I will definitely stop the CD when You'll Never Walk Alone is reached… The new song and the artwork makes this release worthwhile.