Something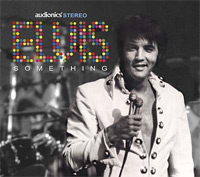 Show date:
1970/08/11 D.S.
Content
01. A Thing Called Love *
02. On The Other Side *
03. Opening Theme ( Joe Guercio orchestra )
04. Opening vamp / That's All Right, Mama
05. I Got A Woman
06. Hound Dog
07. Monologue #1
08. Heartbreak Hotel ( with false start )
09. Monologue #2
10. Love Me Tender
11. I've Lost You
12. Monologue #3
13. I Just Can't Help Believin'
14. Something
15. I Can't Stop Loving You
16. Sweet Caroline
17. You've Lost That Lovin' Feelin'
18. Polk Salad Annie
19. Band Introductions
20. Introduction of Sonny King
21. Bridge Over Troubled Water
22. Suspicious Minds
23. Can't Help Falling In Love

* The Imperials
Reviews
A three week vacation as Elvis fan does mean you have a pile stacked up… so let's start at the top of it (which is actually the last CD I received). It's Audionic's Something, the third unreleased (at least in stereo) TTWII show on their label. This time it's the August 11 Dinner Show.

Design
The sleeve is the same fold out like with the previous two releases. Unlike Twenty Days And Nights this one carries a booklet again! Nearly all pictures are from the actual show, but there are some of the hotel and rehearsals too.

The liner notes are top notch and well researched, a pleasant read… at least when I disregard the tiny white font on the blue background… I'm getting to old to read that without more help than my usual pair of glasses!

Content
The comments on the previous releases (and The Wonder of You) show that some fans are getting tired of these 1970 shows. In my book ridiculous, if there's one thing of Elvis I don't get tired of, these shows are it!

The first three tracks are not my piece of cake thou, I like the Imperials at the events when I actually see them, but I don't have the need to hear them on CD when I plan to listen to Elvis. Gladly someone invented the skip button (and I just didn't copy them to my MP3 player).

That's All Right has some feedback, but the sound quality is superb. Quite some material of the show is familiar because of the DVD(s). Who can't enjoy Elvis in a good mood, performing mostly as good as he could? Highlights to me are the "new" songs of the engagement like I've Lost You, Something, I Just Can't Help Believin' , You've Lost That Lovin' Feelin' and of course Bridge over Troubled Water. Also I Can't Stop Loving You and Polk Salad Annie (with a very long military intro, totally the song lasts way over 6 minutes) get a very fine treatment. Add some oldies, Sweet Caroline and Suspicious Minds and once again you have a wonderful Elvis show which beats any post 1975 show easily!

Conclusion
A disc like this reminds you of all the reasons to be an Elvis fan! Thankyouverymuch Audionics, for repairing what went wrong earlier this year!