Rock My Soul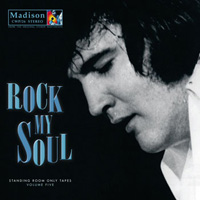 Content
01. Burning Love 4:02
02. Help Me Make It Through The Night 3:24
03. Can't Help Falling In Love 2:19
04. Young And Beautiful 5:17
05. Lawdy Miss Clawdy 2:48
06. Release Me 3:29
07. I'm Leavin' (partial) 0:41
08. Elvis chats with musicians 3:10
09. C. C. Rider 2:46
10. Proud Mary 3:54
11. Never Been To Spain 3:34
12. The Lighthouse 6:10
13. When It's My Time 5:00
14. I, John 2:09
15. Bosom Of Abraham 0:52
16. You Better Run (with false start) 2:10
17. Lead Me, Guide Me 3:45
18. Sweet Sweet Spirit 2:42
19. There's A Room At The Cross (partial) 1:54
20. Turn Your Eyes Upon Jesus / Nearer My God To Thee 4:47
Reviews
The fifth and last volume of Madison's Standing Room Only Tapes, Rock My Soul appears to be the last release by Madison. Is it a worthy farewell?

Design
The artwork is the usual high Madison quality. Nice liner notes decorated with tons of pictures. Many of them are from the rehearsal. I saw some comments on our site and elsewhere that it is a missed change not to use one of them for the front. Obviously Madison doesn't have pictures of the rehearsal in high enough quality to meet up with their high standard. Looking at the large gospel part of the CD, the image fits the content as good as can be.

Content
Most of us know the content by heart, with or without video images. Still I never heard it in this superb quality, To me the first part of this CD belongs to the best material Madison ever released. Young And Beautiful and Lawdy Miss Clawdy are real toppers in my book.

After some chat the room was shaken up by the opening riff and a nice version of CC Rider. Proud Mary and (one of my favourites) Never Been To Spain close the marvelous part of the CD.

The remaining is not exactly my piece of cake. I don't like the gospels as sung by the Stamps if Elvis doesn't lead them. After all I am an Elvis fan, not a Stamps fan. Those songs sung by Elvis are milked out that many times by now that I don't really care for them, although it is nice to have them in their original context in this quality.

Conclusion
Madison can't help that I don't like the second part of these rehearsals, but to answer the question about the worthy farewell: Yes, they did close this series in style and it is a worthy farewell to their fans. If you can lay your hands on this document, don't hesitate!

For me the first 11 tracks will end up on my MP3 player and I'll hear the gospels I like whenever I play one of the DVDs….