April Fool's Dinner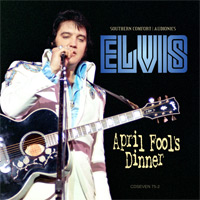 Label:
Southern Comfort/ Audionics
Content
01. Opening Vamp / C. C. Rider
02. I Got A Woman / Amen
03. Love Me
04. If You Love Me (Let Me Know)
05. And I Love You So
06. Big Boss Man
07. The Wonder Of You
08. Burning Love
09. Band Introductions
10. What'd I Say
11. Drum Solo (Ronnie Tutt)
12. Bass Solo (Duke Bardwell)
13. Piano Solo (Glen D. Hardin)
14. Electric Piano Solo (David Briggs)
15. School Day
16. Celebrity Introductions: Roy Clark, Conrad Hilton / The Great Pretender (excerpt)
17. My Boy
18. I'll Remember You
19. Let Me Be There
20. Celebrity Introduction: actor Hugh O'Brian
21. How Great Thou Art
22. Hound Dog
23. Fairytale
24. Can't Help Falling In Love
25. Closing Vamp.

Bonus Tracks (highlights from Las Vegas, April 1st, 1975, Midnight show - Closing night):

26. Big Boss Man*
27. It's Midnight *
28. You Don't Have To Say You Love Me
29. An American Trilogy
30. Help Me Make It Through The Night / Mickey Mouse March
31. Steamroller Blues

* taken from booth tape.
Reviews
Design

The design is different and attractive. It's a fold out slipcase with the CD in the centre panel. The booklet is pretty original, smaller than usual and fits in the left panel.
The pictures chosen are all from the period of the show (March- May 1975), merely of Elvis in the two piece suits (which I prefer way over the overdone jumpsuits).
In other words, it is something different and well designed.

Content

The audio quality is certainly better than the original. For an audience recording it's certainly not bad, but it doesn't belong to the best ones. The quality goes up and down a bit, probably due to the original tape. Especially See See Rider, Big Boss Man and School Days suffer from it.

The show is pretty good, fine renditions of And I Love You So (what a difference with the out of tune versions of later years), My Boy and How Great Thou Art are to me the toppers of this show. The producers can't do anything about my greatest objection of this show: the boring introductions… probably it was nice at the time, when you were there… but I've heard them more than enough by now... especially David Briggs is a very annoying part of it.

The additional tracks from the midnight show are nice to full up the CD, but somehow it doesn't fit after a complete show. Still we get some more than nice performances for the same price ;-).

Conclusion

If you don't have the original, it's almost a must. Elvis is more relaxed than during the "rushed" May/June tour and really takes his time to deliver some very nice performances. For the owners of the original: as said the quality is improved and this release has artwork, so make up your mind!