That's The Way It Is - The Complete Works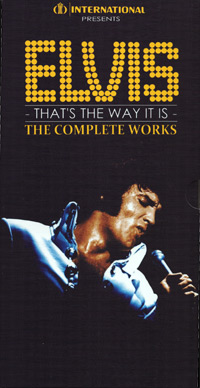 Content
CD 1 Show 1 : August 10 1970 Dinner Show Opening: 62.21
1. Opening Theme
2. That's All Right
3. Mystery Train/Tiger Man
4. Monologue I
5. I Can't Stop Loving You
6. Love Me Tender
7. The Next Step Is Love
8. Words
9. I Just Can't Help Believin'
10. Something
11. Sweet Caroline
12. You've Lost That Lovin' Feelin'
13. You Don't Have To Say You Love Me
14. Polk Salad Annie
15. Introductions
16. I've Lost You
17. Monologue Ii
18. Bridge Over Troubled Water
19. Patch It Up
20. Can't Help Falling In Love/Closing Vamp

CD Show 2 : August 11 1970 Dinner Show: 68.27
1. Opening Theme
2. That's All Right
3. I Got A Woman
4. Hound Dog
5. Monologue I (Technical Problem)
6. Heartbreak Hotel
7. Monologue Ii (Toreador Joke)
8. Love Me Tender
9. I've Lost You
10. Monologue Iii
11. I Just Can't Help Believin'
12. Something
13. I Can't Stop Loving You
14. Sweet Caroline
15. You've Lost That Lovin' Feelin'
16. Polk Salad Annie
17. Introductions (Introducing Sonny King)
18. Bridge Over Troubled Water
19. Suspicious Minds
20. Can't Help Falling In Love/Closing Vamp

CD 3: Show 3 : August 11 1970 Midnite Show: 78.34
Opening Act:

1. A Thing Called Love Performed By "The Imperials"
2. On The Other Side Performed By "The Imperials"
3. Opening Theme
4. That's All Right
5. I Got A Woman
6. Hound Dog
7. Love Me Tender
8. There Goes My Everything
9. Just Pretend
10. I Just Can't Help Believin'
11. Something
12. Men With Broken Hearts – Short Poem
13. Walk A Mile In My Shoes
14. You've Lost That Lovin' Feelin'
15. Polk Salad Annie
16. One Night
17. Don't Be Cruel
18. Love Me
19. Instrumental Break (Elvis Walks Through The Audience)
20. Heartbreak Hotel
21. Introductions
22. Bridge Over Troubled Water
23. Suspicious Minds
24. Can't Help Falling In Love/Closing Vamp

CD 4: Show 4 : August 12 1970 Dinner Show: 71.54
1. Opening Theme (With False Start)
2. That's All Right
3. I Got A Woman
4. Hound Dog
5. Heartbreak Hotel
6. Monologue (Microphone Problems)
7. Love Me Tender
8. I've Lost You
9. I Just Can't Help Believin'
10. Patch It Up
11. Monologue
12. Twenty Days And Twenty Nights
13. You've Lost That Lovin' Feelin'
14. Polk Salad Annie
15. Introductions
16. Blue Suede Shoes
17. You Don't Have To Say You Love Me
18. Bridge Over Troubled Water
19. Suspicious Minds
20. Can't Help Falling In Love/Closing Vamp

CD 5: Show 5: August 12 1970 Midnite Show: 77.23
1. Opening Theme
2. That's All Right
3. Mystery Train/Tiger Man
4. Monologue
5. Hound Dog
6. Monologue
7. Love Me Tender
8. Just Pretend
9. Walk A Mile In My Shoes
10. There Goes My Everything
11. Words
12. Sweet Caroline
13. You've Lost That Lovin' Feelin'
14. Polk Salad Annie
15. Introductions
16. Heartbreak Hotel )
17. One Night
18. Blue Suede Shoe)
19. All Shook Up
20. Little Sister /Get Back
21. I Was The One
22. Love Me
23. Are You Lonesome Tonight ?
24. Bridge Over Troubled Water
25. Suspicious Minds
26. Can't Help Falling In Love/Closing Vamp

CD 6: Show 6: August 13 1970 Dinner Show: 73.32
1. Opening Theme
2. That's All Right
3. I Got A Woman
4. Hound Dog
5. Monologue
6. Love Me Tender
7. Don't Cry Daddy
8. In The Ghetto
9. I Just Can't Help Believin'
10. Stranger In The Crowd
11. Make The World Go Away
12. Sweet Caroline (With False Start)
13. You've Lost That Lovin Feelin'
14. Polk Salad Annie
15. Introductions I/Instrumental Break (Elvis Walks Through The Audience)
16. Introductions Ii (Introducing Art Carney)
17. The Wonder Of You
18. Heartbreak Hotel
19. Blue Suede Shoes
20. One Night
21. All Shook Up
22. Bridge Over Troubled Water
23. Suspicious Minds
24. Can't Help Falling In Love/Closing Vamp

DVD 1:
August 10th Opening
Elvis In Blue Suit
Reading Telegrams
Backstage
That's All Right
Mystery Train/Tiger Man
I Can't Stop Loving You
Love Me Tender
The Next Step Is Love
Words
Something
You've Lost That Lovin' Feelin'
You Don't Have To Say You Love Me
Polk Salad Annie
Patch It Up
Can't Help Falling In Love.
After Show Party

August 11th D/S
That's All Right
I Got A Woman
Hound Dog
Heartbreak Hotel
Elvis Talks
Love Me Tender
I've Lost You
I Just Can't Help Believin
Something
I Can't Stop Loving You
Sweet Caroline
You've Lost That Loving Feeling
Polk Salad Annie
Bridge Over Troubled Water
Suspicious Minds
Can't Help Falling In Love

August 11th M/S
Backstage
That's All Right
I Got A Woman
Elvis Talks
Hound Dog
Elvis Talks
Love Me Tender
Elvis And Fan
There Goes My Everything
Just Pretend
I Just Can't Help Believin'
Men With Broken Hearts
Walk A Mile In My Shoes
You've Lost That Loving Feeling
Polk Salad Annie
One Night
Don't Be Cruel
Love Me
Looks Like I Started Something
Heartbreak Hotel
Bridge Over Troubled Water
Suspicious Minds
Can't Help Falling In Love
Leaving Stage
Bonus Footage:

August 14th M/S
That's All Right
Love Me Tender
Polk Salad Annie
All Shook Up
Blue Suede Shoes
One Night
Suspicious Minds
Can't Help Falling In Love

August 15th M/S
That's Alright
I Got A Woman

DVD 2:
August 12th D/S
Backstage
Hound Dog
Heartbreak Hotel
Love Me Tender/Instrumental
I've Lost You
I Just Can't Help Believing
Patch It Up
Twenty Days And Twenty Nights
You've Lost That Loving Feeling
Polk Salad Annie
Band Introductions
Blue Suede Shoes
You Don't Have To Say You Love Me
Bridge Over Troubled Water
Suspicious Minds
Can't Help Falling In Love

August 12th M/S
Backstage
That's All Right
Mystery Train/Tiger Man
Hound Dog
Love Me Tender
Just Pretend
Walk A Mile In My Shoes
There Goes My Everything
Words
Sweet Caroline
You've Lost That Loving Feeling
You've Lost That's Loving Feeling (Reprise)
Polk Salad Annie
Heart Break Hotel
One Night
Blue Suede Shoes
All Shook Up
Little Sister/Get Back
I Was The One
Love Me
Are You Lonesome Tonight?
Bridge Over Troubled Water
Suspicious Minds
Can't Help Falling In Love.

August 13th D/S
Love Me Tender
Don't Cry Daddy/In The Ghetto
Stranger In The Crowd
Make The World Go Away
Ed Sullivan & Milton Berle Show Dialogue
The Wonder Of You
All Shook Up

DVD 3: Rehearsals
Rehearsal Recording For M.G.M: That's The Way It Is
July 14th, 1970. M.G.M Stage 1, Culver City, California.
Arriving And Greeting Crew
Baby What You Want Me To Do
The Next Step Is Love
Polk Salad Annie
Words
Words (Take 2)
Elvis Talks
Words
Bridge Over Troubled Water
I've Lost You (Playback)
You Don't Have To Say You Love Me
You Don't Have To Say You Love Me (Take 2)
Bridge Over Troubled Waters
Elvis And Band Talk
Elvis And Crew Eating Lunch
Packing Up

Rehearsal Recording For M.G.M: That's The Way It Is
July 15th, 1970. M.G.M Stage 1, Culver City, California.
You Don't Have To Say You Love Me
You Don't Have To Say You Love Me (Take 2)
You Don't Have To Say You Love Me (Take 3)
Sweet Caroline (Ending)
Yesterday
Hey Jude
I Can't Stop Loving You
Tomorrow Never Comes
Love Me
One Night
That's All Right
Elvis And Band Talking
Twenty Days & Twenty Nights
Crying Time
How The Web Was Woven
I'll Take You Home Again Kathleen (Piano)

Rehearsal Recording For M.G.M: That's The Way It Is
July 29th, 1970. M.G.M, Culver City, California.
Don't It Make You Wanna Go Home/Something
Words
I Just Can't Help Believing
Little Sister/Get Back
I Washed My Hands In Muddy Water
I Was The One/Cattle Call
Baby Lets Play House
Don't
Money Honey
A Fool Such As I
Such A Night
It's Now Or Never
What'd I Say
My Baby Left Me
You Don't Have To Say You Love Me
Stranger In The Crowd

Rehearsal Recording For M.G.M: That's The Way It Is
August 4th, 1970. The International Hotel's Convention Centre, Las Vegas, Nevada.
Arriving
Talking To Sweet Inspirations
W
Reviews
It was long awaited and after a few delays it is finally here. That what is to be the definitive collection of material recorded and shot for the MGM classic Elvis: That's The Way It Is. Is it really the definitive release?

Cover art
The packaging of this 6CD/3DVD/Book combination can only be described in one word: stunning! Without any doubt this is the most beautiful package we ever got, and probably will get on our hero. Of course the publishers were helped with the way Elvis looked in 1970 but not everyone knows how to handle such material (e.g. give a look at Teenager's Hero). Well, the designer of this package knew how to handle it!
Even a non Elvis fan will be impressed by it. Especially when the CD/DVD container is fold out, it looks very impressive. Each CD containing a picture of the actual show, and those 3 picture DVDs together… WOW.

Content
A lot of us knew a lot of the material, since it is wandering around for quite a while now. I have to admit that no matter how much I like the material I got bored every know and then by sitting through the same material over and over again, hoping for a small piece of new material and ignoring the often poor quality. The way it is brought together now makes it much easier to enjoy. I will not really going into the content, again, most of us are pretty familiar with it.

The DVDs were my main target when I just got it, especially my favourite… indeed opening night. Unfortunately this show, which is in my opinion one of Elvis' best shows ever (if not the best), is far from complete. Still it is a joy to watch that what is available.

One thing caught the eye during the rundown of all 3 DVDs: there is often a bit of irritating appearance of a kind of interlace lines, especially when the shots are from a bit further away. I never noticed it before, so I guess it has something to do with putting the 3 frames together and resizing the material. Oh, well, at least the material is there in a pleasant presentation and you get used to it quite soon, but it is a pity.

The CDs are filled with my favourite live material (if I ever listen to an audience recording nowadays, it will be a 1970 show 99 out of 100 times), I like each single one of them. The only minor is that they are in mono. So for the 3 shows released by BMG/FTD I will stick to those, although they are less complete and edited… especially since I don't care for the sounds before the opening riff begins. The other three shows are treasured, at least until they show up in stereo sometime.

Conclusion
This is a project that should have been done in cooperation between Sony/FTD/Turner, unfortunately those people only care about easy ways to make money. From a company's point of view understandable, but from my point of few it is a pity it never happened and probably will never happen.

I hope that this beautiful set is not definitive, but until far better quality film shows up (but again, I don't expect that to happen) or the other shows are released in stereo, it will be. I know the set cost a lot of money (especially now it's almost sold out), but it is certainly worth every single penny.