Sunset Rundown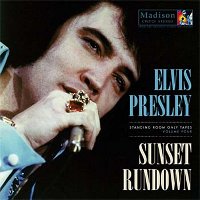 Content
Proud Mary 2:49
Never Been To Spain 4:29
You Gave Me A Mountain (2 false starts) 1:40
Until It's Time For You To Go 5:46
Polk Salad Annie 3:09
Love Me 2:39
All Shook Up 2:35
Heartbreak Hotel 1:59
Teddy Bear / Don't Be Cruel 1:57
Hound Dog 2:18
The First Time Ever I Saw Your Face 5:42
A Big Hunk O' Love 2:52
A Big Hunk O' Love (reprise) 2:41
C. C. Rider 3:30
For The Good Times 3:44
For The Good Times (2 false starts) 2:28
For The Good Times (reprise) 6:34
Funny How Time Slips Away 5:27
Burning Love 2:46
Reviews
Madison just released the fourth volume in their Standing Room Only Tapes-series. Is it as good as the first 3 volumes?

Design
It is a Madison design. That should be enough, but for the newbies around: Madison is synonym for pure quality. Great cover art, a nice booklet with pleasantly written liner notes, decorated with pictures and memorabilia that are in place with the content of the CD. Madison stands for top quality finished into detail.


Content
After two live shows and a mock session it's time for rehearsals. This silver disc brings us the first half of the rehearsal of March 31, 1972.

Next to a job Proud Mary has a home now too. Immediately the superb sound quality draws the attention. How I wish Elvis did his shows in this setting too, without the bombastic orchestras. It's not even the complete TCB band yet (and that shows sometimes), but this plain rock band setting perfectly fits Elvis' voice, but also the musicians catch the attention they deserve. I'm drifting away from the content it seems, but this had to be said.

Having it said, Never Been To Spain underlines it. I love the bombastic versions too, but this could even be better, certainly with the complete TCB Band. You Gave Me A Mountain isn't among my favourites, but including 2 false starts it stays within 2 minutes, so I can live with it. Another song I normally don't rank among the better Elvis songs, Until It's Time For You To Go, surprised me a lot here… it must be one of the best versions Elvis ever did of it. Even in the almost 6 minutes it takes I didn't fall asleep once.

Polk Salad Annie is a bit short, and the oldies get the rush treatment as usual. Gladly they lead to one of the highlights of the CD. The First Time Ever I Saw Your Face is a real topper in my book. Then another oldie that for some reason mostly gets a decent treatment: A Big Hunk, even with a full reprise this time. C.C. Rider is next up, followed by three versions of For The Good Times. Funny to hear that in a couple of days Elvis already geared it up a bit.

After those good times it's funny to see the time slips away without noticing. By the way, a very nice version of the song that I referred to is available on this CD. Less funny is that I just noticed that I ended up with the last song, one of my all time favourites, Burning Love.

Conclusion
Madison did it once again. A great 4th volume in this series, it might even be my favourite so far.