Back With A Bang!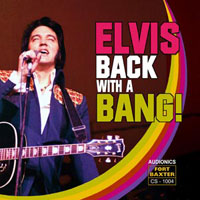 Show date:
1975/03/22 M.S.
Content
01. Also Sprach Zarathustra - 02. C. C. Rider - 03. I Got A Woman / Amen (medley) - 04. Love Me - 05. If You Love Me (Let Me Know) - 06. And I Love You So - 07. Big Boss Man - 08. It's Midnight - 09. Promised Land - 10. Green Green Grass Of Home - 11. Fairytale - 12. Band Introductions - 13. What'd I Say - 14. Drum Solo (by Ronnie Tutt) - 15. Bass Solo (by Duke Bardwell) - 16. Piano Solo (by Glen D. Hardin) - 17. Electric Piano Solo (by David Briggs) - 18. Orchestra Solo - 19. My Boy - 20. I'll Remember You - 21. Let Me Be There (with reprise) - 22. (Let Me Be Your) Teddy Bear / Don't Be Cruel (medley) - 23. Hound Dog (with reprise) - 24. I'll Be There (excerpt) / You're The Reason I'm Living (only live version) - 25. Can't Help Falling In Love - 26. Closing Vamp. Not listed: 27 Roses Are Red

Tracks 01 - 03 recorded in Las Vegas, March 20, 1975, Dinner show. Tracks 04 - 26 recorded live in Las Vegas, March 22, 1975, Midnight show.
Reviews
Another co-production of Audionics and Fort Baxter saw the light of day this week. This time they revived CD4 of the A Profile, Volume 2 box, containing the midnight show of March 22, 1975 in Vegas. Is it worth the effort?

Design

Well, it is VERY 70s, the design of this release. All good memories of these years aside, Elvis, the Osmond Bros, Mud, Abba, school instead of work, the first girl friend and so on, but… the print style of the seventies is not exactly my thing. Unfortunately sun glasses were not included. Gladly taste differs, as we say over here.
The informative liner notes completely make up for the before mentioned minor. They sketch the time perfectly – not only Elvis and show wise, but they also give a good frame on the world at that particular moment.
Another very big pro are the pictures! No silly jumpsuits, but all show Elvis in two piece suits. Unfortunately the part with the overlap-effect is a bit "messy".
All together it's an informative booklet, with some great shots of our man.

Content

I have to admit it was quite a long time ago since I played the original, but that one and this re-release made it into my CD player several times the last couple of days. For those that don't know the original I give a glance on what to expect.
Overall it is a show like an Elvis show should be: quite some songs from the recent (Today-) session (Green Green Grass of Home, It's Midnight, Fairytale and And I Love You So), recent singles (Promised Land, My Boy), some "pop songs of the day" (the Olivia Newton-John hits) some oldies and even a real surprise (You're the Reason I'm Livin').
Unfortunately Elvis messes up some things a bit. Even I Got A Woman is stopped, but E continues it well like a human beat box. I'll Remember You, although well sung, gets some fooling around too, a pity! During the (way too long) introductions Elvis imitates a stand-up comedian. Boy, am I glad he had to make his money as a singer! After this boring part there are some real gems: My Boy will always be a weak spot for me and the surprise song You're The Reason I'm Livin' was a sensation at the time this release came out for the first time. Even BMG copied it later on their Vegas box.
Disregarding the minors it is a pretty good show, not as good as the July tour of that same year, but in general one can say that the new songs were good, especially the ballads and the throwaway versions of the oldies couldn't spoil the whole picture.
As I mentioned before, I compared both the original and this re-release sound wise. When you play the same track in a row you hear the difference. The new one is richer, sound a bit "fuller"… but the difference is not that big that I can tell the difference when I have to listen to it blindfolded. I'd have to wait until the bonus tracks before I know it. Where the original had "Elvis at the Piano" (TTWII 1970) this one has an "one verse" audience recording of Roses Are Red.

Conclusion

To answer the question from the first paragraph: Yes, this release is certainly worth the effort. I doubt if the sound improvement is big enough to make many people happy, but it will certainly make those happy that missed the original. It made me happy since I was pushed towards an overlooked show in my collection. Still I'm afraid it will end up for a pretty while on the shelf, next to the original. Give me the pre 1973 Elvis anytime.