Opening Night - January 1970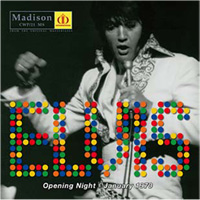 Show date:
1970/01/26 D.S.
Content
1- Opening /All Shook Up 2:22
2- That's All Right 2:51
3- Proud Mary 2:55
4- Don't Cry Daddy 3:00
5- Medley: Teddy Bear / Don't Be Cruel 2:24
6- Long Tall Sally 1:50
7- Let It Be Me 3:53
8- I Can't Stop Loving You 2:50
9- Medley: Walk A Mile In My Shoes 2:56
10- In The Ghetto 3:23
11- True Love Travels On A Gravel Road (with false start) 3:44
12- Sweet Caroline 4:02
13- Polk Salad Annie 5:27
14- Introduction of vocalists, band, orchestra 2:16
15- Kentucky Rain 3:18
16- Suspicious Minds 6:27
17- Can't Help Falling In Love 2:02
Reviews
Opening Night - January 1970

A couple of months ago we got Closing Night in a much better quality than before, does the same goes for Opening Night?

Design

It's a Madison release, so what can I say without repeating myself over and over again? Madison is a synonym for superior quality, and once again they underlined that with this release. A beautiful package that is combining nicely with their Closing Night outing. The liner notes are to the point and nicely written.

Content

The content is for me out of discussion, the 1970 Elvis is from another planet and always outstanding. What I cared about is the quality, is it indeed better than before? I can only answer that with YES at the top of my lungs. Don't get me wrong, it's still far from perfect, the balance of the recording is not better than it is: unbalanced with Elvis very upfront. At least there is hardly distortion and you can just listen, without trying to pull your head between your shoulders. A bit further on the sound gets better and better, or am I just getting used to it? No, it actually does!

For those who are not that familiar with this engagement:

Elvis opens with a frantic All Shook Up and goes on in high speed with That's All Right and Proud Mary before calming down with Don't Cry Daddy. Although we get the Teddy Bear/ Don't Be Cruel medley already in January 1970, it is nothing compared to the later boring throwaway version. This medley actually rocks, even the Teddy Bear part. Long Tall Sally is one of the highlights to me; this is rock'n'roll like it ought to be. Let It Be Me is in one word extraordinaire and although I really love Tom Jones' bluesy version of I Can't Stop Loving You, Elvis' powerhouse version is not much less (if at all).
Next up is the premiere of Walk a Mile in My Shoes, a song that gives me mixed feelings I love the song, but I hate the fans that misuse the lyrics when they are out of arguments. In this version the violins add a special touch, more than on other versions. The song flawlessly goes into In the Ghetto, which is followed by another song of the famous '69 sessions: True Love Travels on a Gravel Road. It is great in its rarity and one of my favourite songs of the session, but honestly I have to admit I understand why it was dropped from the set list pretty quickly. It is just not it.
Another premiere is Neil Diamond's Sweet Caroline. Another performance that doesn't go without an error, but this one survived. A song that was new and just fell into place is Tony Joe White's Polk Salad Annie. This is why Elvis it the king, the way he embraced this song and lived it… WOW!
Gladly during this part of his career the introductions were short without boring solos and used to get his breath back before going into a perfect outing of Kentucky Rain, although the finale by the orchestra is a bit over the top. Suspicious Minds still had the extended treatment it got in August '69 and the show is closed with my favourite lullaby Can't Help Falling In Love. Well, I don't like lullabies at all and I can't get sleep anyway right after enjoying this latest Madison escape.

Conclusion

Next to the completeness of the show, the quality has improved big time over earlier outings of this show. A must have for music lovers!

P.S. for the wise noses who might point to my remark of last week about having TTWII in my player for a long, long time: I used my DVD player this time ;-).