Hot August Night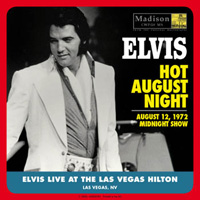 Show date:
1972/08/12 M.S.
Location:
Las Vegas, Nevada
Content
1- Introduction: Also Sprach Zarathustra / 2- C.C. Rider / 3- I Got A Woman / Amen / 4- Proud Mary / 5- Never Been To Spain / 6- Until It's Time For You To Go ;/ 7- You've Lost That Loving Feeling / 8- Polk Salad Annie / 9- What Now My Love / 10- Fever / 11- Love Me / 12 - Blue Suede Shoes / 13- One Night / 14- All Shook Up / 15- Teddy Bear / Don't Be Cruel / 16- Heartbreak Hotel / 17- Hound Dog / 18- For The Good Times / 19- Suspicious Minds / 20- Band introductions / 21- My Way / 22- An American Trilogy / 23- A Big Hunk 'O Love / 24- Tiger Man (opening only) / 25- Can't Help Falling In Love / 26- Closing Vamp
Reviews
As if a couple of songs and a drummer weren't enough Madison made Elvis and Neil Diamond having an album with the same title too. Is this August 12, 1972 M.S. really hot?

Design
Madison and design are almost synonyms by now. This time they completely live up to their image (once again), so it doesn't seem as hard as Elvis told 2 months before the show on this CD. A bit short – but to the point - liner notes are decorated with many shots from this Vegas summer festival. It's very clear that some professionals are behind this product, something that can't be said of many labels (including the official).

Content
Lately I skipped most of the concert releases, since they became boring to me, but for this season I made an exception. Blazing Into The Darkness, Elvis At Full Blast and No Fooling Around proved that Elvis still delivered something in August 1972.

During the opening I was a bit afraid of the sound quality, there was a bit too much "high" for my poor ears. Fortunately the quality turned out to be pretty good and only during some crescendos I suffered a little.

After the standard 2001, See See Rider and I Got a Woman/ Amen ritual Elvis does a breathtaking performance of Proud Mary, like we know from other 1972 shows, but for some reason it doesn't sound "as in a hurry" as e.g. on Madison Square Garden. One of my favourites, Never Been To Spain, is as good as always; I can't get enough of it! The lullaby Until It's Time For You To Go (sorry, but I just don't dig this one) precedes another highlight on this disc: You've Lost That Lovin' Feelin' on which Elvis showed he could really live a song like no other can. Polk Salad Annie doesn't have the swamp feel it had in 1970, unfortunately. What Now My Love – new in this engagement – gets a beautiful treatment and is followed by another "newbie", Fever. After these top performances we get the usual treatment of the 50s hits, I wonder why he did them at all… For the Good Times makes up a lot for the uninspired precedents, once again I become aware why I am still a fan. Suspicious Minds is not the showstopper that it used to be anymore, but still it is among my favourites. Gladly the introductions are pretty short and to the point and then it's time for another newbie: My Way. Although it isn't among my top favourites, I love the version on this disc, it is not yet "over the top" as it became later – and there is no irritating horn disturbing it. An American Trilogy is one of the best versions of the song I've heard; especially Ronnie Tutt shines on it. Wow, what a power both singer and drummer have! A Big Hunk o' Love is about the only 50s song that gets a decent treatment – and the song deserves it well. The acme of cruelty is reached when after a great rough opening of Tiger Man the song fades out in only a few seconds. All that's left is Can't Help Falling In Love and the closing vamp.

Conclusion
Madison did it once again! A good show in a beautiful package is exactly what makes this kid happy.