High Voltage!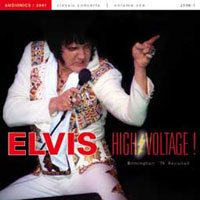 Content
01. Also Sprach Zarathustra (Theme from "2001 A Space Odyssey") - 02. Opening Vamp / C. C. Rider - 03. I Got A Woman / Amen (medley) - 04. Love Me - 05. Fairytale - 06. You Gave Me A Mountain - 07. Jailhouse Rock - 08. O Sole Mio (by Sherrill Nielsen) / It's Now Or Never (medley) - 09. Tryin' To Get To You - 10. My Way - 11. Polk Salad Annie - 12. Band Introductions - 13. Early Mornin' Rain (complete) - 14. What'd I Say - 15. Johnny B. Goode - 16. Drums Solo (by Ronnie Tutt) - 17. Bass Solo (Blues - by Jerry Scheff) - 18. Piano Solo (by Tony Brown) - 19. Electric Piano Solo (by David Briggs) - 20. Love Letters - 21. School Day - 22. Funny How Time Slips Away - 23. Hurt (with last part reprise) - 24. Hound Dog - 25. For The Good Times (with false start, last live version) - 26. The First Time Ever I Saw Your Face (last live version) - 27. Unchained Melody (Elvis at the piano) - 28. Mystery Train / Tiger Man (medley) - 29. Can't Help Falling In Love - 30.Closing Vamp. Bonus: 31. You Gave Me A Mountain - 32. Unchained Melody (in original binaural sound, as recorded)
Reviews
Recently there was a cheap re-release of the Birmingham show on December 29, 1976. Some call that thievery. Gladly two quality labels Audionics and 2001 joined forces to do this show justice.

Design

I can be very short about that. A nice 16 page booklet carries the best that can be done with pictures of Elvis in this shape. The liner notes are an interesting read and the extra information about the tour is for "completists". The last page is used for an in depth story of "the reparation of…".

Content

Since I already happened to bore visitors with my views when the original "Burning In Birmingham" was released, I looked up what I wrote back then:

"A week ago I was complaining about 1976, lost glory and Elvis not being at his best. Probably true, but this concert shows Elvis at his best. 2001 showed in recent releases they are a synonym for quality. With Burning in Birmingham the only live up to their image. The CD contains an 8 page booklet with pictures of the concert and fragments of a newspaper review. Okay, back to the show itself. The sound quality is great, Elvis in a very good mood and the band at their best. It's hard to name highlights in the show, but to me 'Early Morning Rain' (2'56 !), 'For the Good Times' and 'The First Time Ever I Saw Your Face' are pure gems. After listening several times I am convinced that Elvis did also one of the best, if not the best versions of Mystery Train/Tiger Man (play it, James)."

Nowadays I am a bit more critical. This show is only good compared to what Elvis did the year before and the months after it. I still think the four songs above are a pleasant listening, as are several others. But really great? No way!

Compared to the original release (with which I was quite happy at the time), the sound quality has even improved a lot. The downside is that David Briggs is even more annoying, or at least I experience it more that way.

Anyway, the fact that it already had two complete spins since I received it yesterday says enough to me… that didn't happen with a bootleg for a long, long time.

Conclusion

This CD contains a significant improvement of a historic show in a historic tour, not because of its own quality, but compared to the mess Elvis usually made on the stage in 1976/77. The title is well chosen, since Elvis sounds high as a kite.