Closing Night - February 1970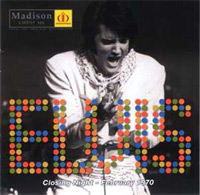 Location:
Las Vegas, Nevada
Content
Tracks :
01 - All Shook Up 1:59 ; 02 - I Got A Woman 2:20 ; 03 - Long Tall Sally 2:43 ; 04 - Don't Cry Daddy 3:58 ; 05 - Hound Dog 1:57 ; 06 - Love Me Tender 2:35 ; 07 - Kentucky Rain 3:12 ; 08 - Let It Be Me 3:12 ; 09 - I Can't Stop Loving You 2:24 ; 10 - C.C. Rider 2:43 ; 11 - Sweet Caroline 2:23 ; 12 - Polk Salad Annie 4:30 ; 13 - Instrumental Intermezzo 2:01 ; 14 - Introduction of vocalists, band, orchestra 2:30 ; 15 - Blueberry Hill / Lawdy Miss Clawdy (Elvis plays piano) 2:08 ; 16 - Heartbreak Hotel 2:21 ; 17 - One Night (Elvis plays electric guitar) 2:39 ; 18 - It's Now Or Never 2:17 ; 19 - Suspicious Minds 4:27 ; 20 - Introduction of crew, management 1:33 ; 21 - Can't Help Falling In Love / announcement 2:06

1970 Bonus Tracks:
22 - Walk A Mile In My Shoes (acetate, February 18) 2:52 ; 23 - The Wonder Of You (rehearsal, February 18, take 2 and 3 - incomplete) 3:52 ; 24 - The Wonder Of You (rehearsal, February 18, take 4 ) 2:38 ; 25 - Press Conference (Houston, February 27) 8:50

Tracks 13-14, 19-21 are previously unreleased

Total Time = 74:25
Reviews
Although announced by Southern Comfort previously, Madison released this February 23, 1970 show. It's a pity the better labels seem to be battling (as we saw several times before in the Elvis world), but how's the product?

Design

In contrary to the rush products like the one my pal Kees reviewed yesterday, you know what to expect when you receive a Madison release. Indeed, high class and they lived up to their image with this one. Of course it is an easier job with a subject looking like Elvis did in 1969/ 1970, but still you have to do it. The homage to the On Stage album is great. As a matter of fact it's much better than that album cover, which always made me think that Elvis forgot to put his teeth in. The booklet itself covers the summer 1969- February 1970 period with mainly full color pictures of the actual engagement, the '69 press conference and some candid shots. The last page focuses on the Houston gig, a couple of days after this show.
The pictures are a perfect decoration for the entertaining liner notes, which roughly handles the same time span, of course focusing on the show on the disc.

Content

There are several outings of this show already, but none of them were complete like this one. The sound quality is much better than the one I had in my cabinet ("In A Class Of His Own").
What do I need to say about the show? There are so many outings with material of this engagement that show the high quality that was Elvis' standard at that moment. From the first bars of "All Shook Up" to the final notes of "Can't Help Falling In Love" the show is pure entertainment. In between we get rockers like "Long Tall Sally", "Hound Dog" and "See See Rider" presented in a way only Elvis could. The man shows his diversity with the treatment of a ballad like "Let It Be Me". The recent hit singles "Don't Cry Daddy", "Kentucky Rain" and of course "Suspicious Minds" got their exposure too. The latter shows – like all versions during this engagement – why Elvis wanted Ronnie back. It's still a great song, but I miss the driving power of Mr. Tutt's drumsticks, and Elvis obviously did too.
During the engagement Elvis did also recent hits of other artists, like "Walk A Mile In My Shoes" (which we get from the 18th as a bonus on this CD), "Sweet Caroline" and the highlight of the show – can it be else? – "Polk Salad Annie", I really love this version so close to Tony Joe White's original. It is way, way better than the later over orchestrated rush versions. Elvis directs his band into more swamp rock to give him time to get his breath back before introducing the band. I never knew he had Chuck Berry and Leonard Bernstein playing for him that night ;-). In other words, this experience is exactly like the L.A. Times wrote back then "a flawless demonstration of vocal ability and showmanship".

The bonus tracks on this CD fit the main content perfectly. As said before there's the February 18th version of "Walk A Mile", rehearsals on that same day for "The Wonder Of You" (as heard on the Legendary Performer series on the same label) and the Houston press conference on February 27 ("are they coming to get me?").

Conclusion

With an Elvis in this form I don't mind the quality isn't as good as some later soundboards. The few hisses and the little bit of noise every now and then I take for granted with content like this. I can only advise to rush to your local record shop (just kidding) and try to lay your pawns on it… Oh, and don't forget the Import Top 40… this one deserves to get in the list!