Across The Country Vol. 2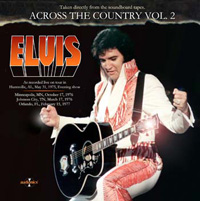 Location:
Huntsville a.o.
Content
Minneapolis, Minnesota, October 17, 1976 (approx. running time 14:34)

01. Sweet Inspiration - 02. Last Time I Saw Him - 03. Introductions of the band and the Sweet Inspirations - 04. Stevie Wonder Medley ("Stevie Is A Wonder" / For Once In My Life / You've Got It Bad Girl / Superstition / You Are The Sunshine Of My Life / Living For TheCity / All In Love Is Fair / Higher Ground) - 05. Closing Announcements.

Huntsville, Alabama, May 31, 1975 (8:30 P.M.) (approx. running time 49:52)

06. All Shook Up - 07. Teddy Bear / Don't Be Cruel - 08. The Wonder Of You - 09. Burning Love - 10. Band Introductions - 11. Johnny B. Goode -12. Drums Solo (Ronnie Tutt) - 13. Bass Solo (Blues - Jerry Scheff) - 14.Piano Solo (Glen D. Hardin) - 15. School Day - 16. (**) I Can't Stop Loving You - 15. T.R.O.U.B.L.E. - 16. Hawaiian Wedding Song - 17. Let Me Be There (with reprise) - 18. Why Me Lord - 19. An American Trilogy - 20.Hound Dog - 21. Funny How Time Slips Away - 22. Little Darlin' - 23.(**) I'm Leavin' - 24. Can't Help Falling In Love - 25. Closing Vamp.

Johnson City, Tennessee, March 17, 1976 (approx. running time 05:22)

26. (*) What'd I Say - 27. (*) And I Love You So (with break)

Orlando, Florida, February 15, 1977 (approx. running time 09:23)

28. If You Love Me (Let Me Know) - 29. You Gave Me A Mountain - 30. Help Me

Total CD running time: 79:10

(*) denotes previously released tracks
Reviews
ElvisNews.com:

The second volume in the "Across The Country" series on the Audionics label was recently released. The first volume wasn't highly classified by us, will it be better now?

Design

With the great 70's logo on the front one can't go wrong. To me Elvis should always be written like this. The pictures in the well designed booklet are fitting to the shows, they are at least from the same tours that are represented on this disc. The 1975 shots are great, our man looked pretty good here. Even the Johnson City pictures from 1976 are bearable, but the remaining shots are a pain in the… uh, eye. The liner notes are informative, although a bit positively in my eyes. The picture CD itself looks great too. In other words, there is nothing to complain about the presentation of this release.

Content

The CD starts with the opening of the Sweets (Minneapolis, October 17, 1976). Nothing wrong with that – although I am an Elvis fan, it's still a pleasant listening. The Elvis part of the CD starts with the main show in Hampton Roads (May 31, 1975 evening). As usual with this tour the soundboard recording is incomplete. It feels like I must have almost the complete tour on my shelves by now, and knowing the content of those I thought that this CD would be pretty enjoyable.
We start with two uninspired oldies, "All Shook Up" and the "Don't Be Teddy Bear" medley. Well, okay, that can happen. The band intros never really were my thing. There are some fun ones with surprisingly good solos, but overall I think it's too much of the same (and mostly a too big part in the show). "I Can't Stop Loving You" and "T-R-O-U-B-L-E" were okay, but not more than that. "Hawaiian Wedding Song" is out of tune, it actually hurts the ear. Remarkable also is "An American Trilogy", not because it is a great version, but because of the sound system that almost broke up. It sounds a bit like Elvis was hit several times with a connected mike. He reacts funny by changing the lyrics, but it doesn't really add to the listening pleasure. Overall the sound is not as good as some of the other shows in this tour. Add to that a tired sounding, although in a good mood, Elvis and that pretty much describes the show. Had I listened to my wife the CD would have been turned off by now, and I would have missed the "Elvis highlight" on it. "I'm Leavin'" is way above par, a bit fast but still a little gem – certainly compared to the remaining of the disc. The Johnson City (March 17, 1976 evening) material is binaurial. James Burton's guitar is very upfront, which is good in a way, since you can hardly hear Elvis' poor performance on "And I Love You So". Still it sounds messy all together, but not as bad as the binaurial recordings of the Orlando, Florida show on February 2, 1977 (evening). Here the piano is separated and it creates a complete cacophonic chaos. The positive side is that you can hardly hear Elvis at all. After removing the disc from the player I had to make the remark "but the disc itself is beautiful". My wife suggested to make a clock out of it, and indeed that's probably the best purpose for it, since it will never be played again.

Conclusion

There was a time that I thought it would be great to have all of Elvis' shows on a silver disc. I grew over that a pretty long time ago, and this case underlines the wisdom of that decision. For the completists only! I applaud the effort in the artwork, but that's not something to buy a CD for.