C.C. Rider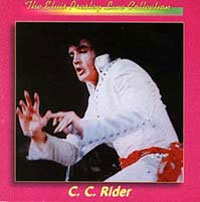 Show date:
1970/02/06 M.S.
Content
All Shook Up
I Got A Woman
Proud Mary
Don't
Teddy Bear/ Don't Be Cruel
Love Me
C.C. Rider
Let It Be Me
I can't Stop Loving You
Love Me Tender
In The Ghetto
Sweet Caroline
Suspicious Minds
Can't Help Falling In Love
closing vamp
Reviews
Another release from the "Elvis Presley Live Collection" and again in poor sound.