Let It Roll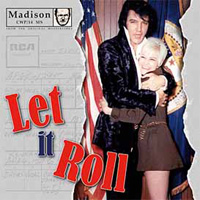 Content
It's Midnight (rehearsal*) December 10, 1973
It's Midnight (take 1*) December 10, 1973
Bosom Of Abraham (alternate take*) June 9, 1971
I'm Leavin' (master take 8, unedited) May 20,1971
Always On My Mind (take 2, unedited) March 29, 1972
Always On My Mind (take 3, unedited) March 29, 1972
Promised Land (take 5, unedited) December 15, 1973
My Way (master take 1, original 1971 mix) June 10, 1971
Johnny B. Goode/O Holy Night (jam*) May 18, 1971
Patch It Up (master take 8, unedited) June 8, 1970
Help Me (live multi-track*) May 3, 1977
Without Love (take 1) January 22, 1969
Without Love ( takes 2*,3,4 ) January 22, 1969
Without Love (master take 5, undubbed) January 22, 1969
Reviews
ElvisNews.com/ Lex:

The recent Madison outing arrived! Should you have it too?

Design

It gets boring to review a Madison release regarding the design. With each release they seem to beat the previous one, while they started at a very high level. The same goes for this escape. Great candids, live shots, a lot of memorabilia and liner notes are presented in a kind of scrapbook way. Just one word is fitting it: marvelous.

Content

The CD contains mainly outtakes from the 1970s, completed with one live recording and a couple of takes from 1969.
Starting in 1973 with some rehearsing for "It's Midnight" and the complete first take is setting the standard pretty high. Unfortunately those are directly two of the few unreleased tracks on the CD. An alternate take of "Bosom Of Abraham" is great and swinging as all of Elvis's up tempo gospel. Next up is the unedited master of "I'm Leavin'" followed by two unedited takes (2-3) of "Always On My Mind". "Promised Land" (take 5 unedited) brings us back to December 1973. Any version of this rocker makes you wonder why Elvis didn't record more of them in the 70s. The yoyo-ing in time continues and we go back to 1971 with the studio version of "My Way", in the original 1971 mix. The highlight of the CD is a very short jam from May 1971: "Johnny B. Goode" and some fooling around with X-mas songs (Leon, Leon) show Elvis' good humour and make you to want more of this. "Patch It Up" gives the same feeling as "Promised Land", why so little of this great stuff in his last years?
The only live track on this CD – "Help Me" (May 3,1977) is in great sound quality, but it is out of line for more than one reason, but okay, for a 1977 performance it is bearable.
From the "newest" track on the CD we jump to the "oldest": 5 takes of "Without Love". Well I can't be unbiased here, since it is one of my all time favourites by Elvis, so it is clear that I enjoyed these 10 minutes very, very much.

Conclusion

With 46 minutes this CD is way too short, but I have enjoyed almost every one of them. A great, well balanced compilation that will find its way to my player pretty often.