Tiger Man – Alternate Anthology Volume 3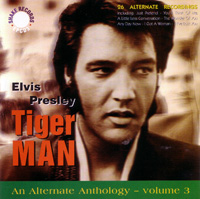 Content
1. Too Much Monkey Business master with extra studio chat
2. U.S. Mail* previously unreleased version
3. A Little Less Conversation alternate take 10
4. You'll Think Of Me undubbed alternate version
5. Wearin' That Loved On Look guitar overdub version
6. A Little Bit Of Green previously unreleased unrepaired master
7. From A Jack To A King previously unreleased version
8. Inherit The Wind previously unreleased alternate master version
9. Stranger In My Own Home Town alternate mix
10. Power Of My Love alternate mix
11. Any Day Now alternate mix
12. I Got A Woman unused master version, Las Vegas, midnight show August 22, 1969
13. The Wonder Of You undubbed master
14. I've Lost You unedited Stereo master
15. Just Pretend (undubbed master)
16. The Wonderful World Of Christmas previously unreleased vocal overdub
17. Leavin' It Up To You stage rehearsal
18. It's Over recorded live, previously unreleased alternate mix, Aloha rehearsal show
19. I've Got A Thing About You Baby* previously unreleased version
20. Are You Sincere edited take 1
21. I Got A Feelin' In My Body previously unreleased version
22. My Boy*
23. Good Times Charlie's Got The Blues undubbed version
24. You're Love's Been A Long Time Coming* unedited take 9 / previously unreleased
25. Solitaire*
26. My Way previously unreleased multi-track version

* = previously unreleased according to the producers.
Reviews
Released on the Shake label is this series of rarities.

Design

The announcements of the "Tiger Man - An Alternate Anthology" releases were received with mixed feelings. Fans were very enthusiast about the design and selection of pictures, and they are right in my opinion; the designer selected a great shot for the cover. The details on the tracks on this album could have been elaborated a bit more, so you know exactly what you have.

Content

Some fans were less enthusiastically about the content because it is a collection of rarities which all have been previously released, contrary to what the booklet claims.

So what to think of this release? Well it is simple. Take it for what it is; a nice collection of hard to get alternate versions of tracks by our man.

Of course there are more and less interesting tracks, the studio chatter on "Too Much Monkey Business" isn't to interesting, but the raw version of "A Little Less Conversation" (take 10) sound great just because you Elvis is still working on the song.

The undubbed "You'll Think Of Me" sounds very pure, as do more "undubbed" version of Elvis' classics. Having written these words, we get a few "dubbed" versions with additional vocals or guitar showing that not all "dubbing" is bad. The added guitar on "Wearin' That Loved On Look" is a good addition to the song as it is a continues line throughout the song.

With tracks like "Inherit The Wind", "Stranger In My Home Town", "Power Of My Love" and "Any Day Now" from the '69 sessions you can't go wrong on any compilation. But the sound of these "alternate mixes" draws your attention, it kind of sounds like they have been taken from MP3 tracks and put on CD. You don't hear that so much on the vocals, but more on the instruments in the back, the hi-hats from the drumms seound "messy". On "The Wonder Of Love" I can hear the old fashioned sounds of a needle meeting dust in the vinyl groove, but somehow this nostalgic sound isn't it.

The producers continued their good selection of tracks with alternate takes of "I've Lost You", "Just Pretend", a great version; it sounds very pure, it is like you're sitting on the recording. We can continue this review complimenting the producers on their song selection, we won't. You just have to listen to it yourself, and enjoy it. One selection we would not have made is the vocal overdub of "The Wonderful World Of Christmas", listening to this vocal track between all these songs with a "heavy" sound is kind of a dissonant. So is the stage rehearsal of "Leavin' It Up To You" which is the only track in bad audio quality.

Conclusion

The bootleggers do what BMG has been doing for years; repacking the same material in a new sequence with a new cover. And just like BMG, every now and then, they produce a very interesting and enjoyable compilation. If you missed out on the old bootlegs, you can collect a lot of interesting performances through compilations like these.