Closing Night 1970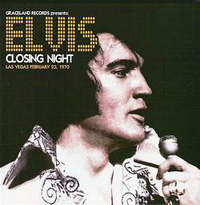 Content
Opening Vamp
All Shook Up
I Got A Woman
Long Tall Sally
Having Fun On Stage
Don't Cry Daddy
Monologue (Everybody Loves Somebody)
Hound Dog
Love Me Tender
Kentucky Rain
Let It Be Me
I Can't Stop Loving You
See See Rider
Polk Salad Annie
Blue Berry Hill / Lawdy Miss Clawdy (Elvis At The Piano)
Heartbreak Hotel
One Night (Elvis On Electric Guitar)
It's Now Or Never (Elvis On Electric Guitar)
Reviews
ElvisNews.com:

Released by the Graceland Records label is the CD "Closing Night 1970". Does it add anything to the material already available?

Design

Many new labels, following the new standard the Madison label set, try to make an effort of their releases, so does the Graceland label. This release comes with an informative and nicely illustrated full color booklet. The liner notes details facts about the January - February season to bring you back in time, and so do the pictures, boy did our man look good! Some CDs have a promotional card enclosed in tradition of the Las Vegas promotion style.

Content

The announcement of the release of this CD caused a commotion on several message boards. The material was "stolen", "incomplete" and of "inferior quality". As that may be, so are many bootlegs, even those from the respectable labels. Let's judge this compilation of live material for what it contains.

This show is from 2 reels which have been put together and digitally re-mastered and restored to improve the listening pleasure according to the booklet. The sound has been improved slightly over previous releases, it is a bit more powerful, but with material like this we can not expect Kevan Budd remasters with DSD transfers. Overall the sound is very enjoyable. You can still hear that various sources were used to compile this release; there is some reverb and some dropouts and fades which could not be edited out.

The sources for this release appear to be "True Love Travels On A Gravel Road" (released 1995 on Cupido and Laurel label), "Electrifying" (released 1997 on the Bilko label) and several CD-R releases with this material. A source the producers overlooked was the 2005 release "Bilko's Gold Cuts" which contained "Sweet Caroline" from this show.

The concert itself is very entertaining; Elvis is in a good mood and full of energy, his voice is strong and his joking still funny. All performances are very good and full of energy. From the rockin' opening vamp (no 2001 theme) and the steaming "All Shook Up" he continues this line throughout the show. Some of the rockers are already a bit short, but not throw-away versions, as most of them end up in the years to come. Listening to Elvis on piano on "Blueberry Hill" we are glad he selected Glenn D. Harding for this job most of the time. For the 41 minutes this compilation lasts it contains relatively a lot of talking, but if this is what is available we will have to settle for it.

Conclusion

How to judge this release? The material is not new, but was scattered over various releases. The producers compiled the available material (at least most of it) and tried to improve the audio quality giving us the best concert experience of this show to date. If you only collect Elvis (live) recordings you can stick to previous releases, if you want to enjoy the "complete" concert compilation try to find a copy of this release.