A Thunder In The Night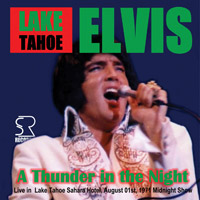 Show date:
1971/08/01 M.S.
Content
That's All Right, Mama
Proud Mary
Jailhouse Rock
All Shook Up (only part)
Love Me Tender
You Don't Have To Say You Love Me
You've Lost The Loving Feeling
Polk Salad Annie
If I can Dream (exc/inst.intermezzo)
Johnny B.Goode
Love Me
Blue Suede Shoes/ Whole Lotta Shakin' Goin' on (medley)
Heartbreak Hotel
One Night ( inc.)
Hound Dog (false start)
Hound Dog
Suspicious Minds
Band Introduction
I'm leaving
The Impossible Dream
Lawdy Miss Clawdy
I Can't Stop Loving You
Bridge Over Troubled Water
I John
Can't Help Falling in Love.
Reviews
Released by the SR Records label is the CD "A Thunder In The Night". Did lighting strike in Tahoe?

Design

The SR label adds bonus material to their releases. This CD came with a collector's card and an A4 booklet for the first 100 copies. Strange to see that not the best pictures (to our taste) have been used for the cover. The liner notes are a well written review of the concert, but we would have chosen a font which was easier to read in small print and we would not have chosen the same color for liner notes and part of the backgroundimage, makes them kind of hard to read (for the older fan).

Content

Since not too many Lake Tahoe concerts are available this CD with an audience recording of Elvis' August 1, 1971 Midnight Show from Elvis' first ever season at Lake Tahoe is a welcome release. 1971 was a strange year for Elvis. Due to troubles between his management and his record company he is not able to deliver a winning single and matching album, so he has to find his goal at the only place left, the stage. This release shows Elvis is full of energy, the show opens with four rockers in a row, one including cursing by Elvis, and a spontaneous version of "All Shook Up" (surprising his band) but he looses the lyrics so ends in prematurely.

The audience is full of energy too, especially the ladies, the shouting sounds much more sexual than the screaming from later years (even my girlfriend noticed the excitement the girls near the microphone felt). But with the energetic "1971 Elvis" who can blame them?

Up next are a few ballads, including the hit from previous year "You Don't Have To Say You Love Me", which get a good treatment. Elvis performs it with energy and commitment and in a strong voice. Unfortunately "If I Can Dream" is only one spoken line.

When Elvis starts rocking' again, so does the crowd. "Polk Salad Annie" is a strong version, Jerry plays his bass really mean, giving the performance the edge it needs. After a short intermezzo James Burton starts, what would become his signature song, "Johnny B. Goode".

Another break with "Love Me" before Elvis returns to the fifties with a string of hits from the old days, including an incomplete "One Night" which still is a great song to listen to. Elvis ends this trip down memory lane with a hello to Paul Anka who is in the audience and two attempts at "Hound Dog".

Our man is more at ease with his recent hit "Suspicious Minds" and delivers a solid version. The band introductions were still brief. Due to the audio quality the two upcoming tracks "I'm Leavin'" and "The Impossible Dream" can not be experienced as good as we want to, But still, the audio quality is o.k. for a remastered mono audience recording. "Bridge Over Troubled Water" could have been a great version if he didn't mess with the lyrics. Probably due to the good mood and atmosphere he felt more free and comfortable to fool around a bit.

A nice surprise at the end is an unexpected version of "I John" which he recorded just two months earlier. Listening to Elvis and his backing singers performing gospels on stage (the only one this concert) we wonder why he never did a gospel only concert. The crowd dos not react as enthusiastically as to the other performances during the concert. The CD closes with 16 seconds of the closing theme.

Conclusion

A great concert, nice packaging, o.k. audio quality and once again, the hope SONY / BMG or bootleggers will release material like this in good quality some say. This is the Elvis we want to hear.